Formula One Racing For Dummies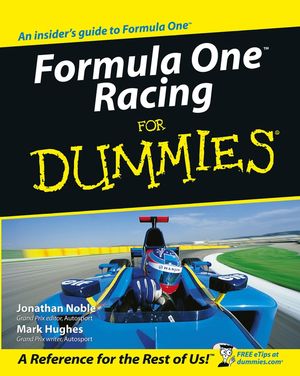 Formula One Racing For Dummies
ISBN: 978-0-764-57015-5 November 2003 294 Pages
Description
Get to know what Formula One racing is all about



This book delves into the strategy, technology, and spirit needed to win a Formula One race. Every angle of a race weekend is covered in detail, from scrutineering to pitstops to podium. You'll also read about the rivalries and politics that have turned the sport into a global televised drama. Illustrated with black and white photographs, Formula One Racing For Dummies will serve the die-hard spectator or armchair fan alike.

Discover how to:
Identify race strategies
Understand the role of each team member
Master the latest rules and regulations
Appreciate a Formula One car's cutting-edge design
Enjoy Formula One from the stands and on TV
The Dummies Way
Explanations in plain English
""Get in, get out"" information
Icons and other navigational aids
Tear-out cheat sheet
Top ten lists
A dash of humour and fun 
Introduction.
Part I: Speeding through the Basics.
Chapter 1: Just the Formula One Facts.
Chapter 2: The Most Popular Sport in the World.
Chapter 3: The Big Business of Formula One.
Chapter 4: Following the Rule Book.
Part II: Teams, Drivers, and Their Cars.
Chapter 5: Understanding a Formula One Car.
Chapter 6: The Race Team.
Chapter 7: Who's in the Driving Seat?
Part III: What Happens On (And Off) the Track.
Chapter 8: Getting in the Race.
Chapter 9: Race Day Strategies.
Chapter 10: Life in the Pits.
Chapter 11: Winning It All.
Chapter 12: Safety in Formula One.
Part IV: Understanding Formula One Tracks.
Chapter 13: Track Basics and Racing Circuits.
Chapter 14: Track and Driver.
Chapter 15: A Look at Each Circuit.
Part V: You and Formula One: A Day at the Races.
Chapter 16: Going to a Race.
Chapter 17: Following Formula One Events.
Part VI: The Part of Tens.
Chapter 18: The Ten Greatest Formula One Drivers.
Chapter 19: The Ten Best Formula One Races.
Chapter 20: Ten Things to Do During the Season.
Chapter 21: Ten Famous Names from the Past.
Chapter 22: Ten Future Stars of Formula One.
Part VII: Appendixes.
Appendix A: Formula One Jargon.
Appendix B: Formula One World Championship Statistics.
Index.
"…ideal for both newcomers and fanatics, it's simple explanation of the complex rule changes make it essential reading…" (Dorset Echo, 19 November 03)
"…filled with the strategies, politics and rivalries that have turned the sport into a global drama…essential reading…" (William Hill.com, November 03)
 "…ideal for both newcomers and fanatics…essential reading…" (Western Morning News, November 03)
"…an excellent guide to how everything in the world of F1 operates…" (Top Gear Onlne, Nov 03)
 "…essential reading for this years race…simple yet comprehensive explanations on all aspects of the sport…" (Greenock telegraph, Nov 03)
"…Jonathan Noble and mark Hughes are to be congratulated on producing such an excellent, easy-to-understand insider's guide to understanding Formula One…" (Derby Evening Telegraph, 12 December 2003)
"…an irreverent but highly informative look at the glory that is – and was – Great Brirtain…" (Shields Gazette, December 2003)
"…ideal for people who want to know all about the support…makes a perfect gift…" (Performance BMW, January 2004)
"…the format is bright and chatty and easily browsed…" (Yorkshire Post, November 2003)
"…apart from the depth and simplicity of its information, the book's strength is its user-friendly index…the perfect dipper's guide…" (Worcester Evening News, January 04)
"…an insiders guide to the racing scene, ideal for both newcomers to the event and its fanatical followers…" (York Evening press, February 04)
"…Formula One Racing For Dummies? Instant expert, more like…" (Newcastle Herald, 14 February 2004)
"…another high quality addition to the series….highly recommended…" (M2 Best Books, May 04)