Fortran 90 For Engineers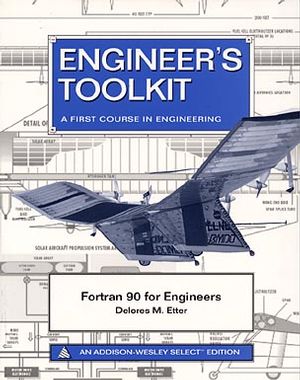 Fortran 90 For Engineers
ISBN: 978-0-471-36426-9 January 1995 288 Pages
Description
This brief introductory text teaches students how to write programs in Fortran 90. It covers programming basics, and uses a five-step method for solving engineering problems.
This text is suitable for a freshman level Introduction to Programming course in Engineering. It is particularly appropriate for a course in which students will be introduced to a number of different programming languages (i.e. Fortran, C++, Java)
Table of contents
Solving Problems with Fortran 90
Arithmetic Computations and Simple Programs
Control Constructs
Engineering and Scientific Data Files
Array Processing
External Procedures
Additional Data Types
An Introduction to Pointers
Appendix A: Fortran 90 Intrinsic Functions
Solutions to Try It! Exercises
Answers to Selected Problems
Features
Five-step problem solving process. A five-step methodology for solving problems is used throughout the text. Each step is clearly identified to help students focus on the process of breaking a problem into smaller components and then addressing the smaller components throughout the text. The five steps are:

State the problem clearly.
Describe the input and the output.
Work the problem by hand (or with a calculator) for a specific set of data.
Develop a solution that is general in nature.
Test the algorithm with a variety of data sets.

Key Topics Covered - arithmetic computations, control structures, array processing, external procedures, and data types, and pointers.
Includes real-world applications throughout.