Forty Years of Research, Policy and Practice in Children's Services: A Festschrift for Roger Bullock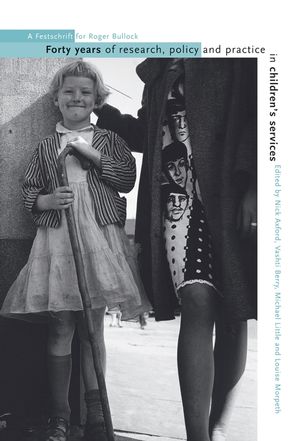 Forty Years of Research, Policy and Practice in Children's Services: A Festschrift for Roger Bullock
ISBN: 978-0-470-01219-2
Apr 2005
240 pages
Description
Founded in 1963, Dartington Social Research Unit conducts scientific research into child development within the context of children?s services with a view to informing interventions for children in need. Originating from a festschrift to celebrate the work of Roger Bullock, one of Dartington?s first researchers and a Fellow of the Centre for Social Policy, this book from a prestigious author team examines developments in children?s services over the past forty years, providing a context for future policy making. Ten key areas are covered including foster care and family support, while two overview chapters explore ?40 years of Social Research? and ?Gaps in the Knowledge and Future Challenges?.
List of Contributors.
About the Cover.
Acknowledgements.
Part I: SETTING THE SCENE.
1. Introduction (Nick Axford, Vashti Berry, Michael Little and Louise Morpeth).
2. Then and Now (Roy Parker).
Part II: CHILDREN'S SERVICES FROM DIFFERENT PERSPECTIVES.
3. Forty Years of Educational Change (Ewan Anderson).
4. Children in Residence (Roger Clough).
5. Reforming Juvenile Justice (Henri Giller).
6. Young Offenders, Mental Health and Secure Care (Sue Bailey).
7. Stability through Adoption for Children in Care (June Thoburn).
8. Going Home or Staying Away (Ian Sinclair).
9. Child Protection (David Berridge).
10. The Evolution of Family Support (Michael Little and Ruth Sinclair).
11. Research into the Family Justice System (Mervyn Murch and Douglas Hooper).
Part III: LOOKING FORWARDS.
12. European Developments in Juvenile Delinquency and Juvenile Justice (Peter van der Laan and Monika Smit).
13. Creative Arts and Social Research (Roger Bullock).
14. Where Next for Social Research at Dartington? (Nick Axford and Louise Morpeth).
15. Messages for Research, Policy and Practice in Children's Services (Nick Axford, Vashti Berry, Michael Little, Jill Madge and Louise Morpeth).
Appendix A: Roger Bullock – A Brief Biography.
Appendix B: Roger Bullock's Main Publications.
Index.
""...provides a clear overview of the key issues in research, policy and practice in UK children's services since the 1960's."" (Times Educational Supplement, 15
th
April,
""...the book is a delight...a useful library resource for the next generation of researchers, teachers and the makers of policy..."" (Adoption & Fostering, Vol 29 (3) 2005)
""...This volume is a good demonstration of how knowledge is built and applied over a long time span. While its immediate focus is a tribute to a particular researcher, it casts light on the wider interactions between research, policy and practice...""(Research in Practice, Issue 55, August 2005)