Fostering the Increased Integration of Students with Disabilities: New Directions for Student Services, Number 134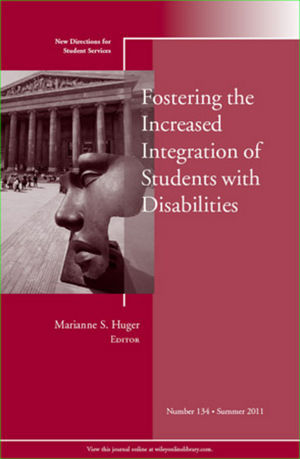 Fostering the Increased Integration of Students with Disabilities: New Directions for Student Services, Number 134
ISBN: 978-1-118-16177-7 July 2011 Jossey-Bass 120 Pages
Description
All members of a community benefit from the diversity that students with disabilities bring to a campus, and all campus constituents have an obligation to serve their diverse students. This volume provides the preparation and knowledge your campus needs to meet the growing populations of students with disabilities.

Editor Marianne S. Huger, assistant dean of students at American University, and contributing authors provide practitioners and faculty members with guidance concerning not just accommodating but including students in the fabric of an institution. They also provide specific guidance on four issues that are current paramount in service students with disabilities: tranistion, online learning, Education-Abroad, and psychiatric disabilties. Also included is an exploration of the legal framework for fostering the increased integration of students with disabilities.

This is the 134th volume of the Jossey-Bass quarterly report series New Directions for Student Services. An indispensable resource for vice presidents of student affairs, deans of students, student counselors, and other student services professionals, New Directions for Student Services offers guidelines and programs for aiding students in their total development: emotional, social, physical, and intellectual.
EDITOR'S NOTES 1
Marianne S. Huger
1. Fostering a Disability-Friendly Institutional Climate 3
Marianne S. Huger
This chapter explores the value of a diverse student population to all
students. The roles that faculty, disability services practitioners, other
administrators, and student leaders can have in increasing the integration
of students with disabilities are discussed.
2. Universal Design for Academic Facilities 13
John P. S. Salmen
This chapter examines the differences between universal design and
accessibility and highlights areas of opportunity for universal design
on college campuses.
3. Employing Universal Design for Instruction 21
Robert A. Shaw
This chapter identifi es how fl exible curricular practices and technology
can constitute universal design for instruction and provides examples of
how these practices have benefi ted students in a number of institutions.
4. Transition Strategies to Ensure Active Student Engagement 35
Donna M. Korbel, Joan M. McGuire, Manju Banerjee, Sue A. Saunders
This chapter explores the transition through college of students with
disabilities by characterizing the postsecondary landscape, presenting
a collaborative model of college transition services, and offering recommendations
for each stage of the transition services continuum.
5. Accessible Online Learning 47
D. Elizabeth Case, Roseanna C. Davidson
This chapter explains the advantages and challenges of creating an
accessible online learning environment by providing guidance on specifi
c improvements and suggesting modifi cations.
6. Education Abroad for Students with Disabilities: Expanding Access 59
Heidi M. Soneson, Shelly Fisher
This chapter identifi es the key support services and advising procedures
under eight major headings that institutions of higher education should
have in place in order to guide students with disabilities effectively as
they explore and participate in education abroad opportunities.
7. Understanding the Experiences of Students with Psychiatric Disabilities: A Foundation for Creating Conditions of Support and Success 73
Holley A. Belch
This chapter examines the population of students with psychiatric
disabilities, addresses the value of their inclusion and integration on
college campuses, provides strategies for inclusion and integration in
and outside the classroom, and offers a comprehensive model of
support.
8. Legal Issues in Serving Students with Disabilities in Postsecondary Education 95
Jo Anne Simon
This chapter explores issues that frame access and accommodation
needs of students with disabilities by identifying current issues and
relevant legal guidance.
INDEX 109