Foucault and Philosophy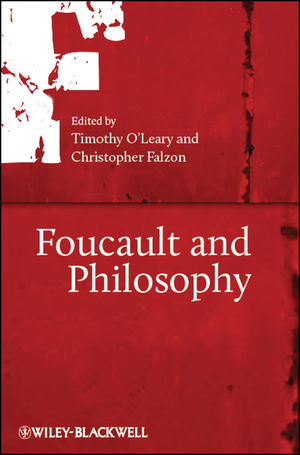 Foucault and Philosophy
ISBN: 978-1-405-18960-6 March 2010 Wiley-Blackwell 272 Pages
Description
Foucault and Philosophy
presents a collection of essays from leading international philosophers and Foucault scholars that explore Foucault's work as a philosopher in relation to philosophers who were important to him and in the context of important themes and problems in contemporary philosophy
Represents the only volume to explore in detail Foucault's relation with key figures and movements in the history of philosophy
Explores Foucault's influence upon contemporary and future directions in philosophy
Brings together a group of outstanding scholars in the field and allows them to explore their topic at a high level of sophistication
Table of contents
List of Contributors.
Acknowledgments.
Introduction: Foucault's Philosophy (Christopher Falzon & Timothy O'Leary).
1 Foucault, Hegel, and Philosophy (Gary Gutting).
2 ""I am Simply a Nietzschean"" (Hans Sluga).
3 Foucault, Heidegger, and the History of Truth (Timothy Rayner).
4 The Entanglement of Power and Validity: Foucault and Critical Theory (Amy Allen).
5 Foucault, Davidson, and Interpretation (C. G. Prado).
6 The ""Death of Man"": Foucault and Anti-Humanism (Béatrice Han-Pile).
7 Foucault's Theory of Knowledge (Barry Allen).
8 Rethinking Experience with Foucault (Timothy O'Leary).
9 Foucault, Queer Theory, and the Discourse of Desire (Jana Sawicki).
10 Foucault and Normative Political Philosophy (Paul Patton).
11 Foucault, Philosopher of Dialogue (Christopher Falzon).
Index.
Reviews
""Summing Up: Recommended. Upper-division undergraduates through researchers/faculty."" (Choice, 1 August 2011)
""In sum, then, O'Leary and Falzon have brought together a good and interesting set of essays that are well worth reading. This volume will be of interest to all scholars who work with Foucault's texts and might be recommended to advanced undergraduate students."" (Notre Dame, 22 March 2011) 
""As a whole the volume on Foucault's relation to philosophy is a fascinating contribution to the vast literature on his work. Although the papers within the volume were somewhat short, they open up many divergent areas of potential research for the future."" (Metapsychology Online, January 2011)