Foundation and Endowment Investing: Philosophies and Strategies of Top Investors and Institutions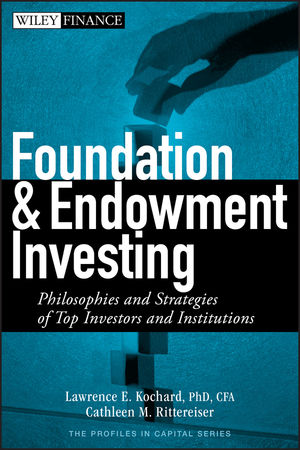 Foundation and Endowment Investing: Philosophies and Strategies of Top Investors and Institutions
ISBN: 978-1-119-19788-1
Aug 2015
320 pages
Description
In Foundation and Endowment Investing, authors Lawrence Kochard and Cathleen Rittereiser offer you a detailed look at this fascinating world and the strategies used to achieve success within it. Filled with in-depth insights and expert advice, this reliable resource profiles twelve of the most accomplished Chief Investment Officers within today's foundation and endowment community—chronicling their experiences, investment philosophies, and the challenges they face—and shares important lessons that can be used as you go about your own investment endeavors.
Foreword.
Preface.
Acknowledgments.
About the Authors.
Part One. Foundations and Endowments Rise as Powerful Institutional Investors.
Chapter 1. The Evolution of Foundation and Endowment Investment Management From Poorhouses to Powerhouses.
Chapter 2. Foundation and Endowment Investing 101 Essential Practices of a Successful CIO.
Chapter 3. The Investment Landscape You Are Here.
Part Two. Profiles in Capital: Philosophies and Strategies from Leading Foundation and Endowment Chief Investment Officers.
Chapter 4. Laurie Hoagland, CIO, Hewlett Foundation Another Sage of Omaha.
Chapter 5. Dr. Allan S. Bufferd, Treasurer Emeritus, Massachusetts Institute of Technology Doctor, Lawyer, Investment Chief.
Chapter 6. Alice Handy, CIO, Investure, LLC Leading the Evolution.
Chapter 7. Scott C. Malpass, CIO, University of Notre Dame Partner, Patriot, and Performer.
Chapter 8. William Spitz, CIO, Vanderbilt University Built An Endowment through Common Sense.
Chapter 9. Ellen Shuman, Vice President And CIO, Carnegie Corporation of New York Investment Artist with her Own Perspective.
Chapter 10. Bruce Madding, CIO, Henry J. Kaiser Family Foundation Master of All Trades.
Chapter 11. Bob Boldt, CIO, Agility Funds Agile Investment Engineer.
Chapter 12. Don Lindsey, CIO, George Washington University Driven by Intellectual Curiosity.
Chapter 13. Jonathan Hook, CIO, Baylor University The CIO as CEO.
Chapter 14. Daniel J. Kingston, Managing Director, Portfolio Management, Vulcan Capital Navigating New Investment Waters.
Chapter 15. Mark W. Yusko, Chief Investment Officer, Morgan Creek Capital Management Invest without Emotion, Act with Conviction.
Part Three. Summary and Analysis. Key Points on Investments, Endowment Management and the Future.
Chapter 16. Lessons for Investors CIO Principles in the Real World.
Chapter 17. The Business of Foundation and Endowment Investment Management
Comparison, Competition, Compensation.
Chapter 18. Real Rewards Investing is a People Business.
Notes.
Index.
""…informative and entertaining…an excellent resource for anyone who is considering a career move into this field or who has not-for-profit organizations as clients."" (Financial Analysts Journal, July/August 2008)