Foundations and Industrial Applications of Microwave and Radio Frequency Fields: Physical and Chemical Processes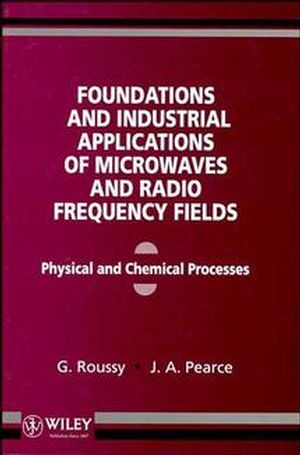 Foundations and Industrial Applications of Microwave and Radio Frequency Fields: Physical and Chemical Processes
ISBN: 978-0-471-93849-1 July 1995 492 Pages
Description
Foundations and Industrial Applications of Microwaves and Radio Frequency Fields Physical and Chemical Processes G. Roussy Universite de Nancy 1, France J. A. Pearce University of Texas at Austin, USA This book presents microwave and radio frequency techniques from the point of view of industrial applications, with special attention to electromagnetic energy and material interaction at the microscopic level. Starting with a review of the complete set of macroscopic governing equations--including conduction processes--it then addresses microscopic interaction effects, describing many results from spectroscopic studies. Finally, industrial applications, including the emerging new field of microwave catalysis, are addressed. The technology presented is applied in the mineral, textile, paper, ceramic, chemical and last, but not least, the food industry.
Table of contents
ELECTRICAL ASPECTS.

Governing Electromagnetic and Thermal Field Relations.

Radio Frequency and Microwave Transmission.

Microwave and Radio Frequency Circuit Design.

High Power Applicators and Loads.

Instrumentation and Measurement Methods.

MATERIAL ASPECTS.

Introduction to the Macroscopic Theory of Dielectrics.

Dynamic Aspects.

Generalization of Dielectric Relaxation in Real Materials.

PROCESSING ASPECTS.

Theoretical Models and Experimental Methods in High Power DensityElectromagnetic Fields.

Electromagnetic Processing of Homogeneous Materials at High PowerDensity.

Electromagnetic Processing of Heterogeneous Materials at High PowerDensity.

Microwave-Enhanced Catalysis.

Index.