Foundations of Play Therapy, 2nd Edition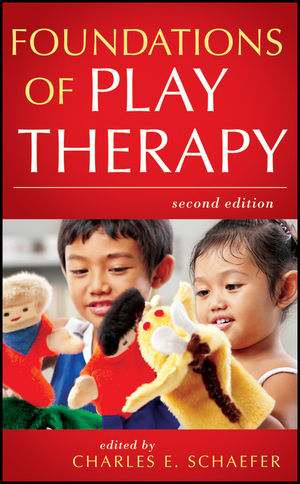 Foundations of Play Therapy, 2nd Edition
ISBN: 978-0-470-52752-8
Apr 2011
416 pages
Description
The landmark guide to play therapy—completely updated and revised
Edited by Charles E. Schaefer—the "father of play therapy"—Foundations of Play Therapy, Second Edition is a complete, state-of-the-art guide to the many diverse approaches to, and methods used in, play therapy practice with children and adolescents.
Featuring an expert panel of contributors, this comprehensive reference provides up-to-date and insightful coverage of all of the major theoretical models of play therapy and offers practical examples for the application of each model, including:
Narrative play therapy

Solution-focused play therapy

Experiential play therapy

Release play therapy

Integrative play therapy

Psychoanalytic approaches to play therapy

Child-centered play therapy

Gestalt play therapy

Family play therapy

Cognitive behavioral play therapy

Prescriptive play therapy
Written for therapists looking for guidance on how to incorporate play therapy into their practice, as well as students or those in need of a refresher on the latest methods and techniques, Foundations of Play Therapy, Second Edition is a standard-setting resource presenting pragmatic and useful information for therapists at all levels of training.
Preface.
About the Editor.
Contributors.
Part I Fundamentals of Play Therapy Practice.
Chapter 1: Play Therapy: Basic Concepts and Practices (Julie Blundon Nash and Charles E. Schaefer).
Chapter 2: The Therapeutic Powers of Play and Play Therapy (Charles E. Schaefer and Athena A. Drewes).
Chapter 3: Playing it Safe: Ethical Issues in Play Therapy (Cynthia A. Reynolds and Laura J. Tejada).
Part II Major Theoretical Approaches.
Psychodynamic Models.
Chapter 4: Psychoanalytic Approaches to Play Therapy (Alan J. Levy).
Chapter 5: Jungian Analytical Play Therapy (Eric Green).
Chapter 6: Adlerian Play Therapy (Terry Kottman).
Chapter 7: Release Play Therapy (Heidi Gerard Kaduson).
Humanistic Models.
Chapter 8: Child-Centered Play Therapy (Daniel S. Sweeney and Garry L. Landreth).
Chapter 9: Filial Therapy: Strengthening Family Relationships with the Power of Play (Risë VanFleet).
Chapter 10: Gestalt Play Therapy (Violet Oaklander).
Chapter 11: Experiential Play Therapy (Carol C. Norton and Byron E. Norton).
Systemic Models.
Chapter 12: Family Play Therapy: Igniting Creative Energy, Valuing Metaphors, & Making Changes from the Inside Out (Eliana Gil).
Chapter 13: Group Play Therapy (Daniel S. Sweeney).
Chapter 14: Ecosystemic Play Therapy (Kevin O'Connor).
Emerging Models.
Chapter 15: Theraplay: Attachment Enhancing Play Therapy (Evangeline Munns).
Chapter 16: Solution-Focused Play Therapy:  Helping Children and Families Find Solutions (Donald R. Nims).
Chapter 17: Cognitive Behavioral Play Therapy (Susan M. Knell).
Chapter 18: Narrative Play Therapy (Aideen Taylor de Faoite).
Chapter 19: Integrative Play Therapy (Athena Drewes).
Chapter 20: Prescriptive Play Therapy (Charles E. Schaefer).
Author Index.
Subject Index.