Foundations of Strategy, 2nd Edition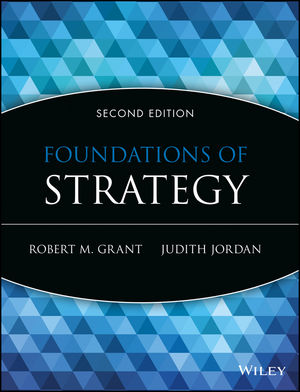 Foundations of Strategy, 2nd Edition
ISBN: 978-1-119-00127-0 January 2015 392 Pages
Description
Foundations of Strategy, Second Edition is a concise text aimed at both undergraduate and Masters students. Written in an accessible style with the needs of these students in mind, the second edition of this popular text has a clear, comprehensive approach, underlined by sound theoretical depth. The text has been fully revised and updated to reflect recent developments in the business environment and strategy research.
Extensive learning and teaching materials to accompany this text include aninstructor manual, case teaching notes, test bank and PowerPoint slides are available for instructors. Resources for students include self-test quizzes and glossary flashcards to test understanding.

From the Reviews of the Second Edition ...
"This second edition of "Foundations of Strategy" is a concise but comprehensive strategic management textbook for both undergraduate-level and graduate-level students. The book covers some of the most fundamental challenges organizations face as they strive to gain and sustain competitive advantage. The book is full of contemporary case studies that include a balanced mix of theory and application in strategic management. This new edition provides a very useful tools and resources to the increasingly important discipline of strategic management. " Dr Jay Lee, California State University, Sacramento
"Foundations of Strategy" explains current theory clearly and carefully, with a good range of examples. The quality of my students' strategic analyses has improved perceptibly since I started using it." Dr Adrian Haberberg, University of East London
Table of contents
Preface to 2nd edition ix
Preface to 1st edition x
Online teaching and learning resources xi
Case list xii
1 The concept of strategy 1
2 Industry analysis 39
3 Resources and capabilities 81
4 The nature and sources of competitive advantage 119
5 Industry evolution and strategic change 151
6 Technology]based industries and the management of innovation 193
7 Corporate strategy 233
8 Global strategies and the multinational corporation 271
9 Realizing strategy 309
10 Current trends in strategic management 343
Glossary 365
Index 371
New To This Edition
Updates to a number of the opening and closing cases keeping content current
A revision of a number of illustrative examples
Chapters 1 and 5 have been reorganised to improve the flow of material
Chapter 10 has been updated to reflect current developments in the field
Features
Features include:
10 chapters covering all the topics in a typical one-semester course.
Concise and integrated treatment of strategy implementation focusing on strategy in practice.
Integration of the not-for-profit sector.
Opening and closing chapter case studies covering a range of real-world, global examples.
Featured Example and Case Insight boxes throughout chapters to give an additional dimension to the subject matter.