Foundations of Voice Studies: An Interdisciplinary Approach to Voice Production and Perception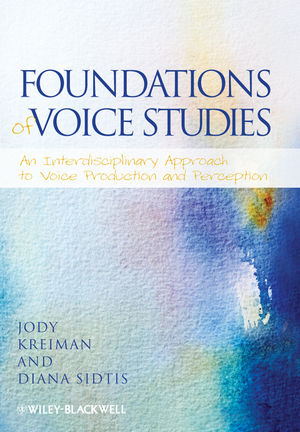 Foundations of Voice Studies: An Interdisciplinary Approach to Voice Production and Perception
ISBN: 978-0-631-22297-2 May 2011 Wiley-Blackwell 516 Pages
Description
Foundations of Voice Studies provides a comprehensive description and analysis of the multifaceted role that voice quality plays in human existence.
Offers a unique interdisciplinary perspective on all facets of voice perception, illustrating why listeners hear what they do and how they reach conclusions based on voice quality
Integrates voice literature from a multitude of sources and disciplines
Supplemented with practical and approachable examples, including a companion website with sound files at www.wiley.com/go/voicestudies
Explores the choice of various voices in advertising and broadcasting, and voice perception in singing voices and forensic applications
Provides a straightforward and thorough overview of vocal physiology and control
1 Introduction.
2 Producing a Voice and Controlling Its Sound.
3 Neurological Foundations of Voice Production and Perception.
4 Physical Characteristics and the Voice: Can We Hear What a Speaker Looks Like?
5 Recognizing Speaker Identity From Voice: Theoretical and Ethological Perspectives and a Psychological Model.
6 The Brain Behind the Voice: Cerebral Models of Voice Production and Perception.
7 Identifying Unfamiliar Voices in Forensic Contexts.
8 Linguistic Uses of Voice Quality: How Voice Signals Linguistic and Pragmatic Aspects of Communication.
9 Perception of Emotion and Personality from Voice.
10 Miscellany: Voice in Law Enforcement, Media and Singing.
References.
Author Index.
Subject Index.
"Foundations of Voice Studies has won the American Publishers Award for professional and Scholarly Excellence (PROSE Award) for best book of 2011 in the areas of Language and Linguistics. It has been praised as "a gem"
by David Pisoni of Indiana University and "a remarkable book" by Stefanie Shattuck-Hufnagel of MIT. Even just its tables make this an invaluable book, worthy of a spot in every phonetician's library."  (The Phonetician,  1 January 2011)