Framing Youth Development for Public Support: New Directions for Youth Development, Number 124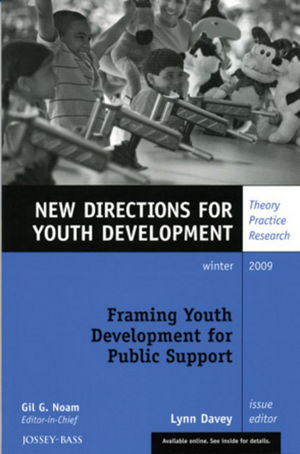 Framing Youth Development for Public Support: New Directions for Youth Development, Number 124
ISBN: 978-1-118-21684-2
Nov 2011, Jossey-Bass
152 pages
Description
Since 1999, the nonprofit FrameWorks Institute has investigated how Americans think about social issues--from children and youth to education and race--and how scientists, policy experts, and advocates can do a better job of engaging the public in solutions. FrameWorks Institute's empirical approach integrates essential constructs from the cognitive and social sciences to investigate the worldviews and patterns of thinking that ordinary people enlist when considering social problems. The goal of this approach is to deliver communications strategies that are grounded in research and have the potential to change the public debate if they are effectively deployed.

This volume focuses on the theory, research, and practice of FrameWorks' decade of work in evidence-based communications strategies for child and youth issues. The articles explain where this approach is situated within the broader conversation on communications for social change; why an iterative, multimethod process is necessary to determine the communications strategies that will elevate the public dimensions of children's and youth's developmental trajectories; and how experts and advocates are applying these evidence-based communications strategies to their work on behalf of children and youth.

This is the 124th volume of New Directions for Youth Development, the Jossey-Bass quarterly report series dedicated to bringing together everyone concerned with helping young people, including scholars, practitioners, and people from different disciplines and professions. The result is a unique resource presenting thoughtful, multi-faceted approaches to helping our youth develop into responsible, stable, well-rounded citizens.
Issue Editors' Notes 1
Michael J. Karcher, Michael J. Nakkula

Executive Summary
7
1. Youth mentoring with a balanced focus, shared purpose, and collaborative interactions 13
Michael J. Karcher, Michael J. Nakkula
This article presents the framework for understanding the nature of mentoring interactions that helps organize the other articles in this volume in terms of their analysis of interaction focus, purpose, and authorship.
2. Mutual but unequal: Mentoring as a hybrid of familiar relationship roles 33
Thomas E. Keller, Julia M. Pryce
This article presents evidence favoring a hybrid model of relationships for successful school-based mentoring interactions.
3. "I dunno, what do you wanna do?": Testing a framework to guide mentor training and activity selection 51
Michael J. Karcher, Carla Herrera, Keoki Hansen
This article tests hypotheses regarding the distinction between relational and goal-directed interactions and the importance of collaborative activity negotiations between mentors and mentees.
4. Beyond the dichotomy of work and fun: Measuring the thorough interrelatedness of structure and quality in youth mentoring relationships 71
Michael J. Nakkula, John T. Harris
This article presents and discusses associations between match structure (guiding purposes and activity focus) and ratings of mentoring relationship quality.
5. GirlPOWER! Strengthening mentoring relationships through a structured, gender-specific program 89
Julia M. Pryce, Naida Silverthorn, Bernadette Sanchez, David L. DuBois
This article describes a structured approach to supporting girls through the Big Brothers Big Sisters program that balances focus, purpose, and authorship.
6. Deconstructing serendipity: Focus, purpose, and authorship in lunch buddy mentoring 107
Timothy A. Cavell, Joye L. Henrie
This article describes the particulars of lunch buddy mentoring and the reasons that it might be an effective form of youth mentoring.
7. The structure of effective academic mentoring in late adolescence 123
Simon Larose, Diane Cyrenne, Odette Garceau, Pascale Brodeur, George M. Tarabulsy
This article explores the structure of the academic mentoring relationship in late adolescence through analysis of its varied experiences and mentor behaviors.
8. Building mentoring relationships 141
Stephen F. Hamilton, Mary Agnes Hamilton
This first of three commentaries provides a historical perspective on the work presented in this volume.
9. Culture, context, and innovation: A Kiwi Canuck perspective 145
Dave Marshall, Karen Shaver
Two leading practitioners discuss the benefits of the contributions in this volume for helping mentors working with youth in Canada, New Zealand, and other diverse contexts.
10. Structuring mentoring relationships for competence, character, and purpose 149
Jean E. Rhodes, Renée Spencer
This closing commentary addresses the importance of exploring different approaches to youth mentoring and the potential impact of such approaches on youth outcomes.
Index 153