France in the Middle Ages 987-1460: From Hugh Capet to Joan of Arc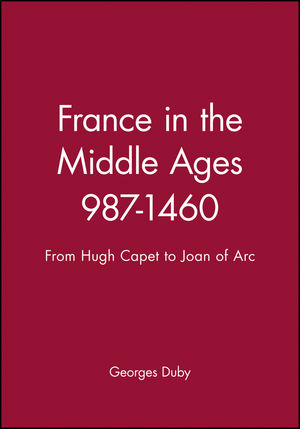 France in the Middle Ages 987-1460: From Hugh Capet to Joan of Arc
ISBN: 978-0-631-18945-9 December 1993 Wiley-Blackwell 360 Pages
Description
In this book, now available in paperback, he examines the history of France from the rise of the Capetians in the mid-tenth century to the execution of Joan of Arc in the mid-fifteenth. He takes the evolution of power and the emergence of the French state as his central themes, and guides the reader through complex - and, in many respects, still unfamiliar, yet fascinating terrain. He describes the growth of the castle and the village, the building blocks of the new Western European civilization of the second millenium AD.
Translator's Note.
Foreword.
List of Illustrations.
List of Genealogical Tables.
Part I: The Inheritance: .
1. The Empire.
2. The Frankish People.
3. The Principalities.
4. Disturbances.
Part II: Lordship:.
5. The Village.
6. The Castle.
7. The Church.
8. King and Lord.
Part III: Origins of State and Nation:.
9. The Great Age of Progress.
10. Louis VII.
11. Philip Augustus.
12. The South.
13. The Thirteenth Century.
14. The Fourteenth Century.
15. The Maid of Orleans.
Epilogue.
Chronology.
Bibliography.
Index.
"Superb ... a great historian offers a fresh interpretation of one of the formative periods of French history."
L'Histoire
"Superb ... a pleasure to read ... an invaluable work of history and reference" La Voix du Nord
"Duby has already changed our conception of medieval Europe. Extensively illustrated, with clear and helpful genealogical tables, this is a boldly written book, impeccably translated by Juliet Vale, that will stimulate discussion among specialists and non=specialists alike." The Jerusalem Post
* Author is one of the most distinguished living French historians.
* Important reappraisal of a crucial period in French history.
* More than 4,000 copies sold in hardback.