Francisella Tularensis: Biology, Pathogenicity, Epidemiology, and Biodefense, Volume 1105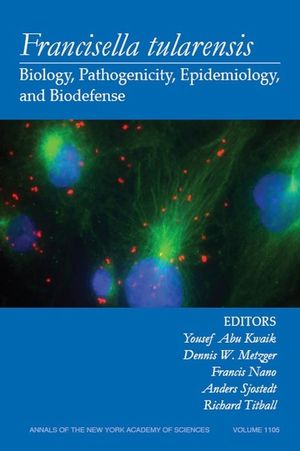 Francisella Tularensis: Biology, Pathogenicity, Epidemiology, and Biodefense, Volume 1105
ISBN: 978-1-573-31691-0
Jul 2007, Wiley-Blackwell
430 pages
Product not available for purchase
Description
This is the first book on tularemia. With the biodefense initiative, there has been a major boost by the NIH to fund studies on bioterrorism agents, including Francisella, which is classified as a A bioterrorism agent. With the major interest in biodefense and the major threats of bioterrorism, Francisella tularensis has become a major interest for microbiologists, cell biologists, immunologists, and infectious disease experts. The volume explores the mechanisms of pathogenesis, genetics and genetic manipulations, genomics and metagenomics, identification of vaccine candidates, animal models to study the disease process, mechanisms of protective immunity, pathophysiology, vaccine development, genetic susceptibility, more effective therapies, clinical diagnosis, and routine and rapid microbiological diagnostic tools.


NOTE: Annals volumes are available for sale as individual books or as a journal. For information on institutional journal subscriptions, please visit www.blackwellpublishing.com/nyas.

ACADEMY MEMBERS: Please contact the New York Academy of Sciences directly to place your order (www.nyas.org). Members of the New York Academy of Science receive full-text access to the Annals online and discounts on print volumes. Please visit http://www.nyas.org/MemberCenter/Join.aspx for more information about becoming a member

Preface.
1. Tularemia: History, Epidemiology, Pathogen Physiology, and Clinical Manifestations: Anders Sjostedt.
2. Molecular Ecology, Epidemiology and Evolution of Francisella: Paul Keim, Anders Johannson, and David Wagner.
3. Genetics and Genetic Manipulations in Francisella Tularensis: Tom Zahrt and Dara Frank.
4. Francisella Tularensis: Genomics and Proteomics: Richard Titball and Joseph Petrosino.
5. The Francisella Pathogenicity Island: Francis E. Nano and Crystal Schmerk.
6. Molecular and Genetic Bases of Pathogenesis in Francisella Tularensis: Jeffrey R. Barker and Karl E. Klose.
7. Uptake and Intracellular Fate of Francisella Tularensis in Human Macrophages: Daniel Clemens and Marcus A. Horwitz.
8. Type II Secretion and Type IV Pili of Francisella: Tina Guina and Ake Forsberg.
9. The Structure and Function of Francisella LPS: John Gunn and Robert Ernst.
10. Francisella Tularensis Activation of the Inflammasome: David S. Weiss, Thomas Henry, and Denise M. Monack.
11. Animal Models of Francisella Tularensis Infection: C. Rick Lyons and Terry Wu.
12. Mucosal Immunopathogenesis of Francisella Tularensis: Dennis W. Metzger, Chandra Shekhar Bakshi, and Girish Kirimanjeswara.
13. Innate and Adaptive Immunity to Francisella: Karen L. Elkins, Siobhán C. Cowley, and Catharine M. Bosio.
14. Vaccines against Francisella Tularensis: J. Wayne Conlan and Petra C.F. Oyston.
15. Pneumonic Tularemia on Martha's Vineyard: Clinical, Epidemiologic and Ecological Characteristics: Bela T. Matyas, Henry S. Nieder, Sam R. Telford III.
16. New Approaches to Diagnosis and Therapy of Tularemia: Arne Tärnvik and May Chu.
17. Biosafety and Selectable Markers: Richard W. Titball, Anders Sjostedt, Martin S. Pavelka Jr., and Francis Nano.
Index of Contributors