Francois Mitterrand: A Political Biography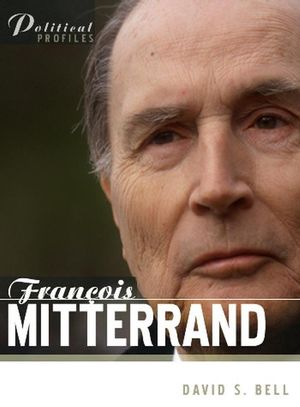 Francois Mitterrand: A Political Biography
ISBN: 978-0-745-63105-9 October 2005 Polity 224 Pages
Download Product Flyer
Download Product Flyer
Download Product Flyer is to download PDF in new tab. This is a dummy description. Download Product Flyer is to download PDF in new tab. This is a dummy description. Download Product Flyer is to download PDF in new tab. This is a dummy description. Download Product Flyer is to download PDF in new tab. This is a dummy description.
Description
François Mitterrand was one of the giants of post-war French politics - a master tactician whose political career spanned more than four decades from wartime occupation to decolonization, the Cold War to European integration. As President, elected twice, he enjoyed an unprecedented fourteen years in office, bringing the left to power and demonstrating that it was a credible governing coalition over some ten years. When he died in 1998, Mitterrand left an enduring political legacy not only on the French domestic scene, but also in European and foreign affairs.
In this pre-eminently accessible political biography, David Bell, offers a fascinating 'behind-the-scenes' analysis of the politics of François Mitterrand. Bringing together a wealth of material, Bell explores Mitterrand's political leadership and the techniques he used in attaining and wielding political power. Mitterrand's unusual journey from right to left, from the Third to the Fifth Republic is a story of ambition, manipulation and ideological fluidity, which provides a lens through which the entire political history of post-war France may be viewed.

This engaging assessment of one man's contribution to an era of French and European politics will appeal to anyone interested in contemporary political leadership, French politics, history and European affairs.
Table of contents
Acknowledgements
Abbreviations
Introduction
Chapter 1 1916-1944
Chapter 2 The Fourth Republic
Chapter 3 De Gaulle's Republic
Chapter 4 The Common Programme
Chapter 5 Alliance Problems 1978-81
Chapter 6 The First Socialist Government
Chapter 7 'Cohabitation' 1986-1988
Chapter 8 Second Term 1988-92
Chapter 9 The Last Years 1991-1996
Conclusion
Bibliography
Reviews
"David S. Bell's excellent new bigraphy describes an astonishing career."
Times Literary Supplement
"This is one of the best political biographies that I know. Bell depicts Mitterrand with the bark on and pulls no punches. It is a superbly realistic study of a totally political man."
Erwin C. Hargrove, University of Vanderbilt
"David Bell's thorough grasp of the political background of modern France enables him to provide a fascinating account of Mitterrand's journey from the 1930s through the war years and the Fourth French Republic to the complicated and fluid politics of the Fifth Republic. Mitterrand's personal beliefs are hard to fathom, but throughout this penetrating study David Bell guides us to a good understanding of the motivations and values which lay behind the actions of one of the most enigmatic politicians to have held power in France."
B. D. Graham, formerly University of Sussex
Features


An insightful new political biography of one of the most influential figures in contemporary French and European politics.


Explores the development of Mitterrand's career against the backdrop of post-war French politics and society.


Assesses Mitterrand's contribution to national and international politics during his 14 years as President.


Written with great flair and wit, this book illustrates why Mitterand is still a figure of enduring fascination.