Frases en Inglés Para Dummies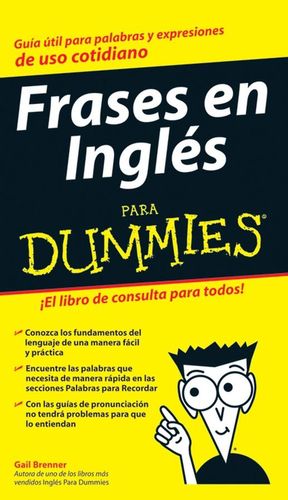 Frases en Inglés Para Dummies
ISBN: 978-1-118-06822-9
Jun 2011
216 pages
Description
Una guía práctica para las personas de habla hispana que desean aprender inglés
Escrito para millones de americanos que hablan español y quieren mejorar o aprender inglés. Ingles Frases Para Dummies es un recurso básico para mejorar su comunicación en el mundo de habla inglesa. Escrito por Gail Brenner, un escritor veterano, editor, y traductor con más de treinta años de experiencia, este libro le ayudara a entender lo básico para poder hablar inglés con confianza.
Escrito por un experto lingüístico y traductor
Ofrece frases comunes en inglés para ayudar a navegar el idioma más fácilmente
Incluye ejemplos útiles de que decir en caso de emergencia
Con Ingles Frases para Dummies como sú guía, usted puede mejorar su inglés y afinar sus habilidades con el idioma.
ENGLISH DESCRIPTION
A handy guide for Spanish speakers who wish to learn English
Written for the millions of Americans who speak Spanish and want to improve or learn English, Ingles Frases Para Dummies is a basic resource for improving your communication in an English speaking world. Written by Gail Brenner, a veteran writer, editor, and translator with more than thirty years of experience, this book will help you understand the basics so you can speak English with confidence.
Written by a leading linguistic expert and translator
Offers common English phrases and sayings to help you navigate the language easily
Includes helpful examples of what to say in case of emergency
With Ingles Frases Para Dummies as your guide, you can learn to improve your English and fine tune your language skills.
Introducción.
Acerca de Este Libro.
Convenciones Usadas en Este Libro.
Suposiciones Tontas.
Iconos Usados en Este Libro.
Cómo Comenzar.
Capítulo 1: Hablando en Inglés Americano.
Capítulo 2: Gramática al Instante: Sólo lo Básico.
Capítulo 3: Sopa de Números: Contando Todo.
Capítulo 4: Haciendo Nuevos Amigos y Conversando de Manera Informal.
Capítulo 5: A Disfrutar de Buena Comida y Bebida.
Capítulo 6: Vamos de Compras.
Capítulo 7: El Tiempo Libre.
Capítulo 8: Cuando Hay Que Trabajar.
Capítulo 9: Me Sé Mover en la Ciudad: Medios de Transporte.
Capítulo 10: Un Lugar para Descansar.
Capítulo 11: Cómo Enfrentar las Emergencias.
Capítulo 12: Diez Errores a Evitar Cuando Se Habla en Inglés.
Capítulo 13: Diez Palabras Que Se Confunden Fácilmente.
Indice.