Fraud Casebook: Lessons from the Bad Side of Business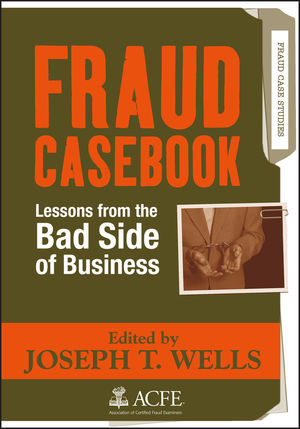 Fraud Casebook: Lessons from the Bad Side of Business
ISBN: 978-0-470-17867-6
Jan 2008
610 pages
Description
Praise for Fraud Casebook Lessons from the Bad Side of Business

"I have known Mr. Wells for over twenty years. In my opinion, no one in the world knows more about fraud than he does."
-W. Steve Albrecht, Associate Dean, Marriott School of ManagementBrigham Young University, Provo, Utah

"This book covers the entire range of fraud that can be encountered in the workplace."
-Grant D. Ashley, Vice President for Corporate Security and SurveillanceHarrah's Entertainment Inc., Las Vegas, Nevada

"I had the pleasure of serving with Mr. Wells when both of us were volunteers for the American Institute of Certified Public Accountants. He knows as much as anyone about how to detect and deter fraud."
-James G. Castellano, Chairman, RubinBrown LLP, St. Louis, Missouri

"I have worked with Mr. Wells for ten years. His reputation is unsurpassed."
-John F. Morrow, Vice President, The New FinanceAmerican Institute of Certified Public Accountants, New York, New York

"Fraud Casebook is a terrific work. I highly recommend it."
-Sherron S. Watkins, a Time magazine "Person of the Year," Houston, Texas

"No one has done more for fraud prevention and detection than Mr. Wells and the Association of Certified Fraud Examiners. Their guidance and training proved invaluable to my staff and me in uncovering the WorldCom fraud."
-Cynthia Cooper, a Time magazine "Person of the Year," Clinton, Mississippi
Preface.
PART 1: ASSET MISAPPROPRIATION.
1. High Art, Low Value: How a Connoisseur Became a Convict.
2. The Ambitious Payroll Manager.
3. The Insider.
4. Aloha, Hawaii!
5. What About Pete?
6. Check, Please.
7. The MoJo Skim Twins.
8. The Mole.
9. Her Passion for Fashion.
10. An Unaffordable Complex.
11. A Taxing Problem.
12. Phantom Links in the Supply Chain.
13. The Trusting Business Owner.
14. The $13 Million Man.
15. They Didn't Know Jack.
16. The Skim Sisters.
17. No Such Thing as a Free Lunch.
18. The Dirty Custodian.
19. The Video Game.
20. Bet Your Life on It.
21. When Petty Cash Isn't Petty.
22. Where Did My Money Go?
23. Three Strikes and You're Out!
24. Country Club Fraud - What a Steal!
25. Where in the World is Dina Sanchez?
26. School of Fraud.
27. Price Check on Register One.
28. The Sky is the Limit.
29. Supplemental Income.
30. An Innocent Perpetrator.
31. Dr. Amy.
32. Patriotic Game.
33. Would You Like the Special Poutine, if You Know What I Mean?
34. Three-ring Circus: An Expose of a Corporate Commission Embezzlement.
35. One Bad Turn Deserves Another.
36. Dialing for Dollars.
37. Wake Up Call.
38. The Dental Queen.
39. Shirley A. Little Wouldn't Hurt!
40. Just When You Though it was Safe.
41. How Many Ways Can I Defraud You?
PART 2: CORRUPTION SCHEMES.
42. A Contract of Convenience.
43. Corruption by Seduction.
44. "Big Easy" Business.
45. Unlucky 13.
46. It's 11 p.m. - Do You Know What Your IT Director Is Up To?
47. These Weights Didn't Measure Up!
48. Swimming with the Sharks.
49. A New York State of Fraud.
50. Information Superhighway.
PART 3: FINANCIAL STATEMENT FRAUD SCHEMES.
51. Banking on Fraud
52. Just a Matter of Time.
53. Bury Me Not in Guyandotte.
54. The Woolly Mammoth Eats Its Prey.
55. Double Damage.
56. How to Steal a Million Dollars Without Taking the Cash.
PART 4: OTHER FRAUD SCHEMES.
57. This Land Is Your Land, This Land Is My Land.
58. Paradise Lost.
59. Bodies For rent.
60. The Million-Dollar Breach of Trust.
61. Troubled Water.
Chapter 62. Con Artists Gone Wild.
Index.
These cases have been hand selected from hundreds of entrees to provide a comprehensive picture of the various types of Fraud, how they are investigated, and how perpetrators are brought to justice.

Edited by Joe Wells, the Founder and Chairman of the World's leading anti-fraud organization, the Association of Certified Fraud Examiners (ACFE).

Co-Branded with the Association of Certified Fraud Examiners (ACFE).
"Don't just read this book. Read it and then look at your organization and evaluate your company's risks. Implement the lessons learned and the recommendations to prevent future occurrences so that you won't have to go through what I and the other people in this book experienced." (Strategic Finance, August 2008)