Fraud Fighter: My Fables and Foibles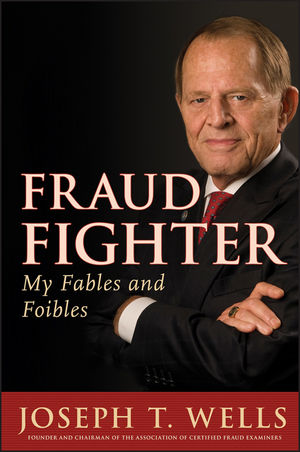 Fraud Fighter: My Fables and Foibles
ISBN: 978-1-119-20037-6
Oct 2015
328 pages
Description
A collection of insightful, poignant, and humorous stories from Dr. Joseph Wells, the world's foremost fraud expert?with gutsy revelations of his own past mistakes
From his dysfunctional childhood in rural Oklahoma; his service in the U.S.Navy; a brief stint in public accounting followed by a career in the FBI; and founding the world's largest anti-fraud organization, Wells' colorful life experiences were preparation for his rise to one of the globe's most revered antifraud experts.
Written by the preeminent antifraud authority and founder and Chairman of the ACFE
Offers a fascinating behind-the-scenes look at the life of one of the most influential white-collar crime experts of our time
At a period when dishonesty at top U.S. companies is dominating public attention, The Fables and Foibles of a Fraud Fighter is a surprisingly frank and gripping memoir from an unsurprisingly effective fraud fighter.This autobiography forms a full tapestry of a life, displaying wit, intrigue, trepidation, regret, and finally, ultimate victory.
Prologue.
Part One: The Apprentice.
Chapter 1: Learning the Ropes.
Chapter 2: My Earliest Years.
Part Two: Journeyman.
Chapter 3: Busting More Crooks in Gotham.
Chapter 4: Jackson, Here I Come!
Part Three: My Own Master.
Chapter 5: A New Start.
Chapter 6: Self-Directed: Wells & Associates.
Part Four: Founding a Profession.
Chapter 7: Vision of a New Breed of Fraud Fighter.
Chapter 8: Looking Back and Looking Ahead.
Part Five: The Global Fight against Fraud.
Chapter 9: Forging Alliances.
Acknowledgments.
Index.
"This is an autobiography of a Federal Bureau of Investigation (FBI) agent who found his way in life, from poor beginnings to creating a world-class organization dedicated to educating fraud fighters. The 289-page book is a quick, fascinating read." (Securitymanagement.com, June 2012)
"Dr. Wells' decisions ultimately led to the founding of an association that has given anti-fraud tools and training to thousands. And he had a lot of fun doing it." (Fraud Magazine, April 2011)