Fraud and Abuse in Nonprofit Organizations: A Guide to Prevention and Detection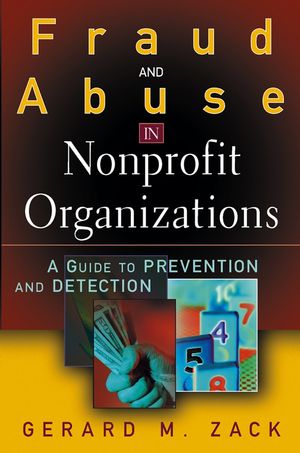 Fraud and Abuse in Nonprofit Organizations: A Guide to Prevention and Detection
ISBN: 978-0-471-44615-6
Jun 2003
384 pages
Description
Protecting nonprofits from both internal and external fraud
This book addresses the most common fraud and abuse schemes committed against nonprofit organizations and explains how those schemes can be prevented and detected. It includes checklists covering each area of fraud and abuse as well as sample policies. The author, an expert in fraud prevention, focuses on the creation of a comprehensive fraud awareness and deterrence system that goes well beyond traditional internal financial controls.
Gerard M. Zack, CPA, CFE, MBA is a Director (Partner) with Williams Young, LLC. He founded the Nonprofit Resource Center, a training, publishing, and resource center serving nonprofit CFOs and external auditors. He is a frequent speaker on the topic of nonprofit fraud.
PART I. INTRODUCTION TO THE PREVENTION AND DETECTION OF FRAUD AND ABUSE.
Chapter 1. An Introduction to Fraud in the Nonprofit Sector.
Chapter 2. Overview of a Model for the Prevention and Detection of Fraud and Abuse.
PART II. FINANCIAL CONTROLS ASSOCIATED WITH SPECIFIC CATEGORIES OF FRAUD AND ABUSE.
Chapter 3. Revenue and Cash Receipts.
Chapter 4. Purchasing and Cash Disbursements.
Chapter 5. Payroll and Expense Reimbursements.
Chapter 6. Other Asset Misappropriations and Misuse.
Chapter 7. External Frauds.
PART III. FRAUDS COMMITTED BY, FOR, OR THROUGH NONPROFIT ORGANIZATIONS.
Chapter 8. Fundraising Fraud and Abuse.
Chapter 9. Fraudulent Reporting.
Chapter 10. Other Acts Attributable to Nonprofit Organizations.
PART IV. THE ROLES OF NON-FINANCIAL SYSTEMS.
Chapter 11. Human Resource Policies and Procedures.
Chapter 12. Administrative Systems and Policies.
PART V. THE ROLE OF MANAGEMENT AND THE BOARD OF DIRECTORS.
Chapter 13. Day-to-Day Management Activities.
Chapter 14. The Role of the Board of Directors.
Chapter 15. Financial Oversight and Analysis.
Appendix. Example Policies and Checklists.
Detailed and comprehensive guidance on the specifics of how certain types of fraud and abuse occur, as well as the specifics on how to prevent or detect them.
Includes checklists covering each area of fraud and abuse as well as sample policies (e.g., such as a code of ethics, fraud policies, conflict of interest policy, etc.).