Fraud in the Markets: Why It Happens and How to Fight It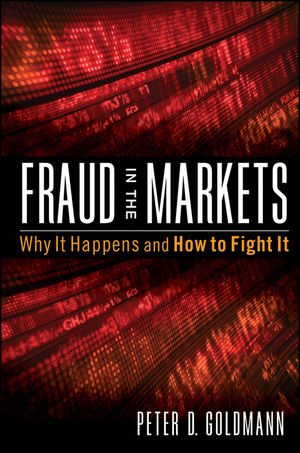 Fraud in the Markets: Why It Happens and How to Fight It
ISBN: 978-0-470-50789-6 March 2010 272 Pages
Description
A dramatic look at fraud's role in our financial markets-and how you can protect yourself
Fraud In the Markets reveals the critical role fraud played in the global financial crisis-even as many of the perpetrators continue to go unpunished. Shedding light on the reckless conduct of the former senior executives at major Wall Street firms such as Lehman Brothers, Bear Stearns, Merrill Lynch and others just before their collapse, this timely book shows how the culture of "anything goes" on Wall Street fueled the innovation of exotic but deadly asset-backed securities.
A frank insider look at the most dramatic economic and business headlines in recent memory, you will find revealing discussion of

The egregiously fraudulent lending practices that engulfed the entire US mortgage industry
The brazenly deceptive marketing of asset-backed securities
A road map to prevent similar disasters from recurring
Fraud in the Markets offers forward-looking advice, with practical guidelines for protecting yourself and your company from various forms of fraud that were found to have played a role in the current economic and financial crisis.
Preface.
Acknowledgments.
Introduction: A Brief History of Fraud in Financial Markets.
Banking Fraud in the Early Days.
Market-Building by Morgan.
Flim Flam Finance.
Savings and Loan Fraud Follies.
Beginning of the End.
Asset-Backed Securities.
Off to the Races.
Chapter 1 The Fraud Culture.
I Wanna Be Rich.
The Spread of Ethical Erosion.
What It All Means.
How We Got Here.
The Evolving Shapes of Fraud: Pressure, Opportunity, and Rationalization on Wall Street.
An Triangle or a Diamond?
A Fraud Pentagon? 
Chapter 2 The Politics of Banking Fraud.
Politics and Regulation.
Antebellum Banking.
Early Due Diligence.
Central Banking: The Drive Is Revived.
Enter the ABA.
The Warburg Factor.
Financial Regulation Today.
What If?
Is Regulation Here to Stay?
Chapter 3 Modern Day Financial Services Fraud (1980-2010).
The Fraud Culture and Today's Frauds.
The "Milken/Boesky" Era.
Fancy Financing Foments More Fraud.
The Ignominious Birth of "Pay for Performance".
Risky...Riskier...
A Deluge of Derivatives.
The Good Side of CDSs.
Shortening Memories.
Enron et al.
Chapter 4 Reform, Re-Regulation, and the Persistence of Fraud.
Better Anti-Fraud Controls.
Beyond Financial Reporting Fraud.
Regulation and Legislation.
More Aggressive Action Needed.
Chapter 5 The Real Estate Bubble and Bust: The Fraud Factor.
How Did It Get So Bad?
Subprime Mortgages: Licenses to Steal.
Who Is Subprime?
Going for Broke(r).
Chapter 6 The Makings of a Meltdown.
Other Fraud-for-Profit Schemes.
Greed Grows and Fraud Follows.
Fraud for Property Schemes.
The Role (or Not) of Predatory Lending.
Chapter 7 Beginning of the End: Death by Derivatives.
Playing with Fire.
Chaos Out of Order.
Anatomy of a Subprime Deal.
The Fine Art of Corporate Deception.
Bankers Go with the Flow—Into the Tank.
Hard Money.
And Then There's AIG.
How "Toxic" Securities Ended Up in So Many Investor Portfolios.
Rating Agency Deception Redux.
And So, The End Begins.
Chapter 8 Can the Circle be Broken?
So What Now?
Critical Reform Issues.
Policing, Policy, and Propriety.
About the Author.
Index.
"A dramatic look at fraud's role in our financial markets-and how you can protect yourself. Fraud in the Markets reveals the critical role fraud played in the global financial crisis-even as many of the perpetrators continue to go unpunished. Shedding light on the reckless conduct of the former senior executives at major Wall Street firms such as Lehman Brothers, Bear Stearns, Merrill Lynch and others just before their collapse, this timely book shows how the culture of "anything goes" on Wall Street fueled the innovation of exotic but deadly asset-backed securities." (AccountingWEB.com, March 19, 2010)