Free Money and Services for Seniors and Their Families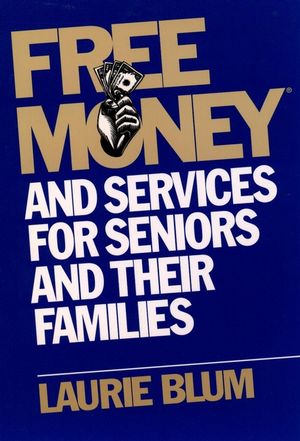 Free Money and Services for Seniors and Their Families
ISBN: 978-0-471-11489-5
Jul 1995
341 pages
Description
OVER 1,000 SOURCES OF FREE DOLLARS AND ASSISTANCE FOR SENIORS

Millions of dollars of services are available to help seniors and their caregivers get the top quality care they need for free or at a minimal cost. Many people with needs just like yours are already receiving free money and services for medical treatment, meals, long-term specialized care, and at-home assistance. But in order to get these benefits, you have to locate and tap into the government, community, and private agencies that offer them.

Leading free money expert Laurie Blum shows you how to navigate the bureaucratic maze. She provides:
* Over 1,000 sources of free financial aid, complete with contact names, addresses, and phone and fax numbers
* Listings of hundreds of government, community, and private organizations that provide nonfinancial assistance
* Clear step-by-step instructions for assessing your needs, evaluating services, working with caregivers, and making legal arrangements
* Smart ways to choose at-home and alternative housing for self-sufficient seniors or those needing special care
THE SERVICES AND PRODUCTS.

Services and Products Available for the Well at Home.

Community-Based Services.

Services Provided at Home for the Ill.

Alternative Housing Arrangements for Older People.

Nursing Homes.

Arranging and Checking Care from Afar.

THE SOURCES.

Associations and Organizations Directed Toward the Needs of Older Americans.

Private Foundation Funding.

Area Agencies on Aging.

Bibliography.

Index.