Free Will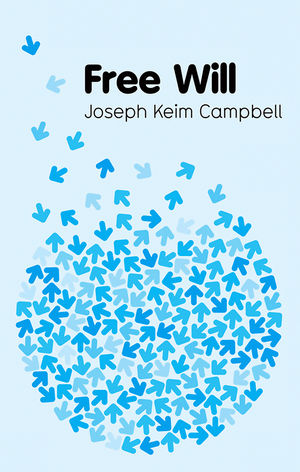 Free Will
ISBN: 978-0-745-63740-2 April 2013 Polity 136 Pages
Description
What is free will? Why is it important? Can the same act be both free and determined? Is free will necessary for moral responsibility? Does anyone have free will, and if not, how is creativity possible and how can anyone be praised or blamed for anything?

These are just some of the questions considered by Joseph Keim Campbell in this lively and accessible introduction to the concept of free will. Using a range of engaging examples the book introduces the problems, arguments, and theories surrounding free will. Beginning with a discussion of fatalism and causal determinism, the book goes on to focus on the metaphysics of moral responsibility, free will skepticism, and skepticism about moral responsibility. Campbell shows that no matter how we look at it, free will is problematic. Thankfully there are a plethora of solutions on offer and the best of these are considered in full in the final chapter on contemporary theories of free will. This includes a rigorous account of libertarianism, compatabilism, and naturalism.

Free Will is the ideal introduction to the topic and will be a valuable resource for scholars and students seeking to understand the importance and relevance of the concept for contemporary philosophy.
Table of contents
Acknowledgments vii
1 Free Will 1
1.1 Why Care about Free Will? 2
1.2 Free Will and Fatalism 4
1.3 Time and Truth 7
1.4 Foreknowledge 13
1.5 Determinism 19
2 Moral Responsibility 27
2.1 Moral Responsibility 28
2.2 Freedom and Epistemic Conditions 29
2.3 Other Necessary Conditions 33
2.4 The "Free Will" Crisis 39
2.5 Moral Responsibility without Free Will 41
3 The Problem of Free Will 43
3.1 The First Argument 44
3.2 The Third Argument 48
3.3 The Mind Argument 51
3.4 Free Will Skepticism 54
4 Moral Responsibility: Incompatibilism and Skepticism 58
4.1 The Direct Argument 59
4.2 The Manipulation Argument 66
4.3 The Ultimacy Argument 69
5 Free Will Theories 73
5.1 Libertarianism 73
5.2 Free Will Skepticism 83
5.3 Compatibilism 86
5.4 Alternative Views 95
5.5 Final Thoughts 104
Notes 106
References 109
Index 122
Reviews
"Not only a thorough introduction to the topic, but also an excellent source of references and perspectives for further research."
Ethical Perspectives
"A well-written work which offers a real contribution to contemporary philosophy."
Political Studies Review
"Enormous ground is covered in this quite slim volume and there is much to cogitate on: it is fascinating entrée in to this extremely relevant and contemporary area of philosophy."
LSE Politics Blog
"Thoroughly researched and includes a lengthy bibliography and a list of good movies - recommended."
Choice
"Campbell's Free Will is remarkable: it is an efficient but impressively thorough treatment of the rich collection of issues that arise in contemporary philosophical work on free will."
Manuel Vargas, University of San Francisco
"This is an excellent book. It is a very comprehensive - and yet highly accessible - overview of the contemporary literature on free will. Reading this work would be an ideal way of getting up to speed on this lively and exciting sub-field of philosophy. Joseph Campbell knows his stuff, and he is an outstanding guide to the debates about free will that engage so many contemporary philosophers. Highly recommended."
John Fischer, University of California, Riverside
"An informed and engaging introduction to the free will problem which explains some of the more complex and important current debates about free will in clear and understandable terms without sacrificing rigor of argument."
Robert Kane, University of Texas at Austin
Features
The first book in the new Key Concepts in Philosophy series which looks at Free Will
Written by a leading figure in the field who is well-known for his perspective on the debates
Lively and engagingly written, the book uses lots of examples from contemporary culture to introduce the problems,arguments and theories surrounding free will
Includes a chapter on contemporary theories of free will bringing the book completely up-to-date
Likely to become the authoritative introduction to this core topic