Freelancing For Dummies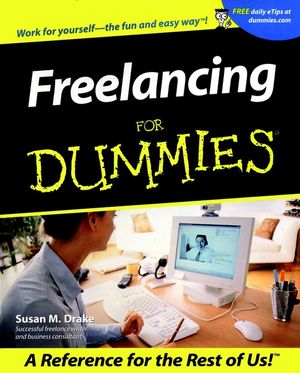 Freelancing For Dummies
ISBN: 978-1-118-06963-9
May 2011
360 pages
Description
Are you ready to fly the corporate coop and become the boss of you? Do you dream of busting out of the cubicle wasteland and finding greener pastures as a freelancer? If so, you're in good company. The U S Department of Labor estimates that nearly one-fourth of the American workforce is self-employed and that number is sure to increase over the next decade. But do you have what it takes to succeed as a freelancer, consultant, or contract employee? Do you even know what it takes to make it on your own? Here's your chance to find out.

A total guide to starting and running a freelance business, Freelancing For Dummies is for anyone thinking about striking out on their own, or who's already decided to make the move into self-employment. It's also an excellent resource for established freelancers looking for ways to jumpstart their businesses. Written by a top corporate communication consultant, it features hard-won tips from a slew of successful freelancers, including an accountant, a wr iter, a computer trainer, a graphic designer, a market researcher, an event planner, a medical trainer and others who share what they know about how to:
Organize your home office and budget your time
Create the ideal working environment
Evaluate jobs and projects
Land new business and manage client relationships
Manage your money and pay your taxes
Stay positive and manage the emotional uncertainties of self-employment
Here's your chance to take the leap from employee to boss with minimal stress and minimal sweat. A survival guide to building a successful freelance career, Freelancing For Dummies features:
Self-assessments to gauge your skills and personality
Critical "Get in, get out" information
A gold mine of checklists, tear-out sheets, and sample forms
Top ten lists
War stories from freelancers who've made it
Do you long for the freedom of being your own boss? Relax and let expert Susan Drake help you make the transition to becoming a fulltime freelancer.
Introduction.

PART I: Getting Ready to Go It Alone.

Chapter 1: Are You a Born Freelancer?

Chapter 2: Understanding the Realities of Working for Yourself.

Chapter 3: Making the Decision to Freelance.

Chapter 4: Laying the Groundwork for Your New Life.

PART II: Opening Your Doors for Business.

Chapter 5: Forming Your Company.

Chapter 6: Organizing Your Office.

Chapter 7: Budgeting Your Time.

Chapter 8: Building an Extended Staff.

PART III: Bringing Your Work to Life.

Chapter 9: Creating a Professional Image.

Chapter 10: Finding Clients.

Chapter 11: Landing Business with Advertising and PR.

Chapter 12: Evaluating Jobs and Projects.

Chapter 13: Managing Client Relationships.

Chapter 14: Staying Current.

PART IV: Managing Your Money.

Chapter 15: Budgeting and Accounting.

Chapter 16: Setting Rates and Collecting Fees.

Chapter 17: Paying Taxes.

Chapter 18: Securing Insurance.

Chapter 19: Investing for the Future.

PART V: The Part of Tens.

Chapter 20: Ten Ways to Handle Stress and Prevent Burnout.

Chapter 21: Ten Tips for Balancing Your Work and Personal Life.

Chapter 22: Ten Things Clients Want Most from You.

Index.

Book Registration Information.