Freesourcing: How To Start a Business with No Money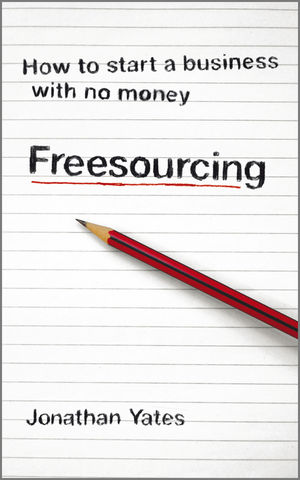 Freesourcing: How To Start a Business with No Money
ISBN: 978-1-907-29307-8 June 2010 Capstone 240 Pages
Description
So you've got the drive to start a business. You might even have the Big Idea all mapped out. But then you realise that you've got no money to take it to the next stage. Back to the day job? No way. That's where Freesourcing comes in. Believe it or not, you don't need money to start a business. There's an entire industry out there waiting to help you take your idea and make it happen... for free.  All you need to know is where to find the help and how to get your hands on it.

Freesourcing is the definitive guide to free business start up resources, showing you exactly where to go and who to talk to when you're starting a business on a shoestring. Freesourcers don't just think outside the box - they find out where they can get the box for free too. You'll find information on free:
Premises
Money
Computers
Travel
Online resources
Stationery
Advice and support
Legal help
Banking
Networking opportunities
Marketing and PR
Stock
No cash? No problem. So what are you waiting for?
Introduction.
About This Book.
1 Use What You Have.
Time.
Family, friends and your social network.
What's lying around?
Creativity.
Emotion.
The art of barter.
Experience.
Prices and negotiation.
The entrepreneurial advantage.
2 Setting Up the Foundations of Your Business.
Elevator pitch.
The Legal entity.
Using professional help.
Business plan.
A place to work.
Money.
Travel.
Sourcing equipment.
Food for thought.
Business cards.
Making yourself look bigger than you are.
Protecting your ideas.
Trial business services.
Banking.
3 IT and Communication.
Computer equipment.
Getting on the Internet.
Data storage and back-up.
Email and website.
Communication.
Webinars.
Template documentation.
Professional business applications.
4 Help, Skills and Training.
Ask for help.
Get new skills.
Community skill sharing.
Find a mentor.
Motivate yourself.
5 Research, Innovation and Prototypes.
Research.
Generate great ideas.
Sell what you have.
Get money to turn ideas into products.
Start a business-to-business software company.
White labelling.
Getting stocked up.
6 Customers, Brands, Marketing and Sales.
Create your own brand.
Find customers.
Get publicity.
Obtain testimonials.
Read trade magazines.
Benefit from an army of sales people.
Get accredited.
Attend exhibitions.
Get paid in advance.
7 Growth and Next Steps.
Forms of growth capital.
Some inspiration.
Freestarts:  More Businesses You can Start for Free.
The 10 Rules of Freesourcing.
Glossary.
Acknowledgements.
About the Author.