Frege: A Critical Introduction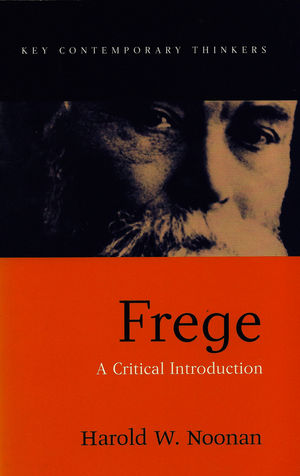 Frege: A Critical Introduction
ISBN: 978-0-745-66801-7 July 2013 Polity 256 Pages
Description
This new book offers a comprehensive and accessible introduction to Frege's remarkable philosophical work, examining the main areas of his writings and demonstrating the connections between them.
Frege's main contribution to philosophy spans philosophical logic, the theory of meaning, mathematical logic and the philosophy of mathematics. The book clearly explains and assesses Frege's work in these areas, systematically examining his major concepts, and revealing the links between them. The emphasis is on Frege's highly influential work in philosophical logic and the theory of meaning, including the features of his logic, his conceptions of object, concept and function, and his seminal distinction between sense and reference.
Frege will be invaluable for students of the philosophy of language, philosophical logic, and analytic philosophy.
Table of contents
Preface.
Acknowlegements.
Chapter 1 Introduction: Frege's Life and Work, Biography, The Origin and Development of Frege's Philosophy, Frege's Contributions to Philosophy.
Chapter 2: Logic,The Purpose of Conceptional Notation, Logic Before Frege, Fregean Logic.
Chapter 3: Number, Aims of the Foundations of Arithmetic, Rebuttal of Earlier Attempts, The Development of Frege's Own Position.
Chapter 4: Philosophical Logic, On Function and Concept, On Concept and Object.
Chapter 5: Theory of Meaning, The Distinction between Sense and Reference, Indirect Reference, The Objectivity of Sense, Challenges to Sense.
Appendix.
Bibliography.
Index
Reviews
'Noonan's book provides a careful and painstaking, yet readily accessible, exposition of Frege's principal doctrines. His evident sympathy with Frege's views never interferes with a searchingly critical assessment. Whilst many important claims in the book are far from being uncontroversial, its final two chapters - on Frege's philosophical logic and theory of meaning - must rank among the best discussions available.'
Bob Hale, University of Glasgow
"This is an excellent introduction to Frege...There's much to admire and agree with in this book" Steven Robinson, Philosophy in Review

<!--end-->
Features
A A genuinely introductory book on one of the twentieth century's most influential philosophers.

A Accessible and interesting without sacrificing any of Frege's complexity.

A Indispensable reading for all students of the philosophy of language and philosophical logic.