Freshwater Prawn Culture: The Farming of Macrobrachium Rosenbergii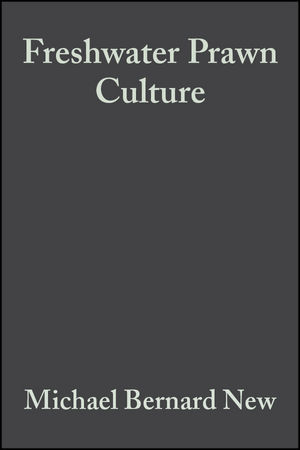 Freshwater Prawn Culture: The Farming of Macrobrachium Rosenbergii
ISBN: 978-0-470-99955-4 December 2007 Wiley-Blackwell 464 Pages
Description
The farming of the freshwater prawn
Macrobrachium rosenbergii
has developed rapidly during recent years. Advances in techniques, and the huge expansion of world demand for this species, continue to stimulate the growth of a multi-million dollar industry.
This landmark publication is a compendium of information on every aspect of the farming of M. rosenbergii. A comprehensive review of the status of freshwater prawn farming research, development and commercial practice, the book is intended to stimulate further advances in the knowledge and understanding of this important field.
An extremely well-known and internationally-respected team of contributing authors have written cutting edge chapters covering all major aspects of the subject. Coverage includes biology, hatchery and grow-out culture systems, feeds and feeding, up-to-date information on the status of freshwater prawn farming around the world, post-harvest handling and processing, markets, and economics and business management. Further chapters are devoted to the culture of other prawn species, prawn capture fisheries and the sustainability of freshwater prawn culture. Contributions to the book have been brought together and edited by Michael New and Wagner Valenti, themselves widely known for their work in this area.
The comprehensive information in Freshwater Prawn Culture will give an important commercial edge to anyone involved in the culture and trade of freshwater prawns. Readership should include prawn farm personnel, business managers and researchers, and invertebrate, freshwater and crustacean biologists. Copies of the book should be available on the shelves of all libraries in research establishments and universities where aquaculture and fisheries are studied and taught.
Michael Bernard New, OBE is a Past-President of the World Aquaculture Society and President-Elect of the European Aquaculture Society; Wagner Cotroni Valenti is a Professor at the Aquaculture Center, São Paulo State University, Brazil.
Table of contents
Preface.
Contributors.
Acknowledgements.
1 History and Global Status of Freshwater Prawn Farming.
2 Nomenclature and Taxonomy.
3 Biology.
4 Broodstock Management.
5 Flow-through Hatchery Systems and Management.
6 Recirculation Hatchery Systems and Management.
7 Larval Prawn Feeds and the Dietary Importance of Artemia.
8. Nursery Systems and Management.
9. Grow-out System- Site Selection and Pond Construction.
10 Grow-out Systems- Monoculture.
11. Grow-out Systems- Culture in Temperate Zones.
12. Grow-out Systems- Polyculture and Integrated Culture.
13. Nutrition, Feeds and Feeding.
14 Grow-out Systems- Water Quality and Soil Management.
15. Health Management.
16. Biology and Management of Size Variation.
17. Commercial Freshwater Prawn Farming Around the World.
18. Post-harvest Handling and Processing.
19. Marketing and Preparation for Consumption.
20. Economics & Business Management.
21 Culture of Other Prawn Species.
22. Prawn Capture Fisheries and Enhancement.
23. Sustainability of Freshwater Prawn Culture.
Index.
Reviews
" Both the editors and the authors deserve our highest compliments. The editors specifically also for composing this work: with their own contributions, and by bringing together the very best authors in the field, they have produced a truly marvellous book."
Crustaceana
"...this collecting of information from a variety of sources is invaluable. The result is that the editors have been successful in putting together a comprehensive volume relating to topics relevant to the culture of freshwater prawn"
Aquaculture International

"The book surely provides the reader with almost everything they need to know about this vital subject."
Fishing Boat World

"The book is exceptionally well designed and organized, making for very easy reading. This is no doubt the best up-to-date book I have seen on the subject of prawn farming."
Aquaculture Magazine
What's New
* the definitive work on the subject
* prawn culture is an expanding multibillion dollar business
* increasing competition and environmental problems demand the most up-to-date scientific know-how
* edited by world authorities, with contributions from distinguished experts