Freshwater Prawns: Biology and Farming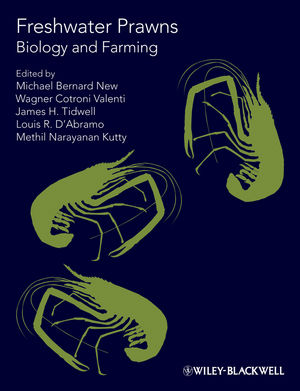 Freshwater Prawns: Biology and Farming
ISBN: 978-1-444-31465-6
Aug 2009, Wiley-Blackwell
560 pages
Description
Covering general biology and every aspect of farming freshwater prawns, from current research to development and commercial practice, this has become widely viewed as a landmark publication in the field. The well-known team of editors, New, Valenti, Tidwell, D'Abramo and Kutty, have gathered cutting-edge contributions from the world's leading experts to provide farm personnel, business managers, researchers and invertebrate, freshwater and crustacean biologists with an essential resource.
History and Global Status of Freshwater Prawn Farming.
Nomenclature and Taxonomy.
Biology.
Broodstock Management.
Hatchery Systems and Management.
Larval Feeds and Feeding.
Nursery Systems and Management.
Grow-out Systems - Site Selection and Pond Construction.
Grow-out Systems - Monoculture.
Grow-out Systems - Culture in Temperate Zones.
Grow-out Systems - Polyculture and Integrated Culture.
Nutrition, Feeds and Feeding.
Grow-out Systems - Water Quality and Soil Management.
Health Management.
Genetics.
The Biology and Management of Size Variation.
Commercial Freshwater Prawn Farming and Enhancement around the World.
Post-harvest Handling and Processing.
Marketing and Preparation for Consumption.
Economics and Business Management.
Culture of the Oriental River Prawn Macrobrachium nipponense.
Culture of the Amazon River Prawn Macrobrachium amazonicum.
Culture of Other Freshwater Prawn Species.
Sustainability of Freshwater Prawn Culture.
"Freshwater Prawns: Biology and farming is an updated and expanded version of the book published a decade ago . . . The book should prove to be a valuable source of reference for all those interested in the culture of freshwater prawns, and there is also much information that could be incorporated into aquaculture courses designed for college and university students." (Aquaculture International, 26 July 2011)
"In conclusion, this comprehensive review is certainly useful for students, farmers, researchers, and all those in search for any subject related to freshwater prawn culture. Given the good coverage of all the subjects, in a well explained manner, this book will be beneficial for beginners and can clarify doubts of experienced farmers and biologists. Surely this beautifully bound book will be an asset to your scientific libraries!." (Journal of Crustaceana, 1 July 2011)
"The comprehensive information presented in the book will be of immense use to those involved in the culture and trade of freshwater prawns, prawn farm personnel, business managers and researchers." (INFOFISH International, 1 February 2010)
"Coverage encompasses biology and taxonomy; hatchery and grow-out culture systems; nutrition, feeds, and feeding; genetics; size management; commercial developments around the world; post-harvest handling and processing; marketing and preparation for consumption; economics and business management; and sustainability. … For prawn farm personnel, business managers, and researchers." (Book News, December 2009)
* Definitive work on the subject
* Provides up-to-date scientific know-how for an industry which faces increasing competition and environmental challenges
* Edited by world authorities, with contributions from distinguished international experts