From 0 to 260+ Properties in 7 Years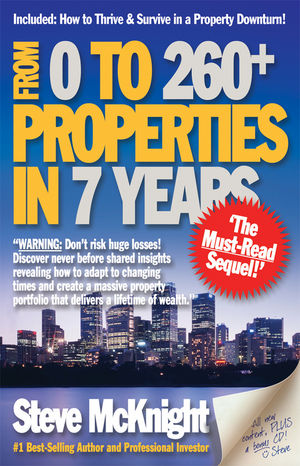 From 0 to 260+ Properties in 7 Years
ISBN: 978-0-731-40577-0
Dec 2006, Wrightbooks
400 pages
Product not available for purchase
Description
How This Book Will Benefit You…

1. Profit From Expert Advice
It makes sense to learn from a trusted and qualified source. Steve McKnight is a qualified chartered accountant with extensive property investing experience. Steve's techniques have been successfully used and applied by tens of thousands of investors.

2. Gain The Investing Edge
The content is completely new! Each chapter contains never-before seen information and insights presented in an entertaining and easy-to-read style.

3. Avoid Making Huge Losses!
Chapter 10 reveals exactly what to do in the event of a property market meltdown. Be prepared by taking action while there's still time.

4. Maximise Your Property Profits
Discover specific and practical strategies, together with relevant examples that reveal how other successful investors are making stacks of money from real estate right now.

5. 100% Satisfaction Guarantee!
If you don't think reading this will increase your property profits by at least 10 times the cost, then send it back for a full refund!* It's simple -- you either profit or don't pay. You can't lose!
Preface: Bad Advice in a Fish and Chip Shop xi
Part I - Making a Start
1. The Real Steve McKnight 3
2. Creating a Significant Mindset 17
3. Don't Rely on a GovernmentAged Pension 27
4. Take the Steve McKnight Challenge! 41
Part II - A Recipe for Disaster
5. The Dreadful Dangers of Personal Debt 67
6. There Are Only Two Types of Debt: Bad and Worse 85
7. The Steve McKnight Property Clock 105
8. The Secret to Massive Lifetime Wealth 119
9. Avoiding the Biggest Mistake in Property 141
10. How to Survive and Thrive in a Property Downturn 159
Part III - Real Estate 'Steve Style'
11. Building a Massive Property Portfolio from the Ground Up 181
12. Cashing in on Fast Growth 201
13. Proven Ways to Find Positive Cashflow Properties 225
14. Working the Five Money-Making Formulas 241
15. Revealed: 3-2-1 to Easy Deal Evaluations 257
Part IV - Deal Time
16. Troy and Bee Aim for Reno Riches 287
17. Tammy and Co. Go Mining for Cashflow Gold 297
18. Suzanne and Katrina Do Their Block for a 322% Retum! 305
19. $65,974 in Four Months and Two Days 315
20. Simon, Lynn and Tony Commercialise New Zealand 323
21. Melissa and Andrew Divide and Conquer 333
22. Kate and Lyle's Positive Cashflow Executive Gem 339
Part V - What Next?
23. Your Step-By-Step Implementation Plan 351
24. Final Thoughts 375
Appendix A: Definitions Behind the Sustainable Debt Levels Matrix 379
Appendix B: Definitions Behind the Danger Money Multiples Matrix 387
Index 393