From Curse To Blessing?: Using Natural Resources To Fuel Sustainable Development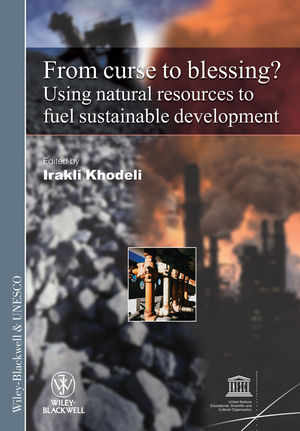 From Curse To Blessing?: Using Natural Resources To Fuel Sustainable Development
ISBN: 978-1-405-19697-0
Jun 2009, Wiley-Blackwell
176 pages
Description
This book investigates how revenues derived from natural resource exploitation can be translated into real benefits for the citizens of resource-rich countries
Shows how despite unprecedentedly high prices of natural resources such as oil and gas on the global market, resource-rich countries are home to over 60% of the world's poorest people

Discusses the counterintuitive phenomenon known as the "resource curse" and how mineral wealth can impoverish countries

Presents the major obstacles for the international community in the fight against poverty and in the achievement of the Millennium Development Goals

Debates the ways to lift the curse, and suggests policy interventions to break the vicious circle

Includes cross-country comparisons as well as focussing on countries such as

Azerbaijan

, Democratic Republic of Congo,

Nigeria

and the

Russian Federation
Part I: Natural resource wealth, good governance, transparency and sustainable development: a general debate.
1. Introduction (Irakli Khodeli).
2. Resolving conflicts of interest in state-owned enterprises (Jenik Radon and Julius Thaler).
3. The devil's excrements as social cement: natural resources and political terror, 1980–2002 (Indra de Soysa and Helga Malmin Binningsbø).
4. Natural resource rent-cycling outcomes in Botswana, Indonesia and Venezuela (Richard M. Auty).
5. Governance strategies to remedy the natural resource curse (Joseph Siegle).
6. Budget transparency and development in resource-dependent countries (Paolo de Renzio, Pamela Gomez and James Sheppard).
 7. Before the peak: impacts of oil shortages on the developing world (Ben W. Ebenhack and Daniel M. Martínez).
Part II: A view from the field.
8. Social and economic implications of oil policy development in Nigeria (Alexis Rwabizambuga).
9. The public oversight of oil projects in Azerbaijan, 2004–2007 (Farda Asadov).
10. Energy relations in Russia: administration, politics and security (Andrey Makarychev).
11. Doing business with integrity: the experience of Anglogold Ashanti in the Democratic Republic of Congo (Paul Kapelus, Ralph Hamann and Edward O'Keefe).
Part III: A view from the industry.
12. The IPIECA social responsibility working group and human rights (Jenny Owens).
Index.