From Entrepreneur to Infopreneur: Make Money with Books, eBooks, and Information Products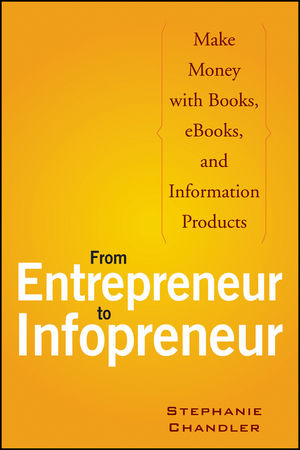 From Entrepreneur to Infopreneur: Make Money with Books, eBooks, and Information Products
ISBN: 978-1-118-04477-3
Dec 2010
240 pages
Product not available for purchase
Description
Infopreneurs sell valuable information online in the form of books, e-books, special reports, audio and video products, seminars, and other media. This definitive guide will show how to master the tools and tactics of the most successful infopreneurs, so you can succeed at producing, marketing, selling, and automating delivery of information products online. This guide comes complete with interviews of successful infopreneurs.
Preface.
CHAPTER 1. Information Product Opportunities: Fire Up Those Revenue Streams.
Benefits of Information Products.
Generating Information Product Ideas.
Strategies for Promoting Information Products.
Infopreneur Profile: Joan Stewart.
CHAPTER 2. Celebrity Sells: Achieving Expert Status.
The Anatomy of an Expert.
Building an Expert Platform.
Maximizing Media Exposure.
Preparing for Media Appearances.
Infopreneur Profile: Dottie Walters.
CHAPTER 3. Author Aspirations: Effective Writing for Books.
No Time to Write?
If You Don't Like to Write.
Finding a Niche.
Getting Started.
Solicit Feedback.
Infopreneur Profile: Joe Vitale.
CHAPTER 4. Go Big: How to Get Published Traditionally.
Literary Agents.
Finding an Agent.
Contacting Publishers Directly.
Elements of a Book Proposal.
Publishing Contracts.
Infopreneur Profile: Romanus Wolter.
CHAPTER 5. Do It Yourself: Self-Publishing Demystified.
Self-Publishing Options.
Steps to Self-Publishing.
Infopreneur Profile: Dan Poynter.
CHAPTER 6. eBooks and Special Reports: Make Money While You Sleep.
Formatting and Delivery.
eBook Formats and Compilers.
eBook Layout.
Selling eBooks on Amazon.com.
Infopreneur Profile: C. Hope Clark.
CHAPTER 7. Other Information Products: More Money in the Bank.
Teleseminars.
Audio and Video Products.
Seminars, Workshops, and Workbooks.
Electronic Classes.
Tips Booklets.
Subscription Newsletters.
Pricing Strategies.
Order Fulfillment.
Infopreneur Profile: Tom Antion.
CHAPTER 8. Your Web Site: Build It and They Will Come.
Domain Search and Web Site Setup.
Site Design Secrets.
Shopping Carts and Credit Cards.
Web Site Content.
Search Engine Optimization.
Tips for Maximizing Online Sales.
Infopreneur Profile: Alyice Edrich 118
CHAPTER 9. Online Marketing Techniques: Spanning the Globe.
Send a Newsletter or E-zine.
Press Kit.
Totally Terrific Tips.
Online Classified Ads.
Maximize Your Signature.
Strategic Alliances.
Online Groups.
Forums and Message Boards.
Host a Free Day.
Start an Affiliate Program.
Get Testimonials.
Hold a Contest.
Preannounce New Products.
Infopreneur Profile: Paulette Ensign.
CHAPTER 10. Offline Marketing Techniques: Pounding the Pavement.
Writing Effective Sales Copy.
Writing Op/Ed Pieces.
Public Speaking.
Written Correspondence.
Recognizing Holidays.
Promotions, Contests, Giveaways, and Charity Events.
Distributing Flyers.
Making Your Business Card a Keeper.
Direct Mail.
Yellow Pages.
Ads in Local Magazines and Newspapers.
Starting a Referral Program.
Getting Creative with Gift Certificates.
Business Networking.
Infopreneur Profile: Michelle Dunn.
CHAPTER 11. Catch a Buzz: Book Marketing.
Stage One: Before Your Book Is Published.
Stage Two: While Your Book Is Being Published.
Stage Three: After the Release Date.
Infopreneur Profile: Susan Harrow.
CHAPTER 12. Carpe Diem: Put Your Plans into Action.
Information Product Plan Checklist.
Infopreneur Profile: Shel Horowitz.
Directory of Resources.
Index.
About the Author.