From Genome to Therapy: Integrating New Technologies with Drug Development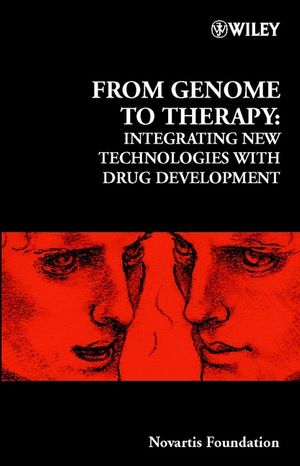 From Genome to Therapy: Integrating New Technologies with Drug Development
ISBN: 978-0-470-84664-3 April 2008 174 Pages
Description
This important and exciting work brings together a high-calibre group of experts to discuss the practical application of genomic information to the development of drugs. Recent technological advances have led to a rapid acceleration in our ability to gather genetic data. The complete genetic sequences are now known for several organisms and accelerated programmes are in place for sequencing many other genomes, including human. The speed with which complete sequencing can be accomplished will continue to increase as new technologies come online. In principle, the scope for developing new diagnostic techniques and drugs is now greater than at any time in human history, but the pathway from genetic information to usable drug is a long and complex one.

This major book covers such subjects as the current state of the art in squencing technology, the applications of these new technologies to sequencing the genomes of various organisms, and the challenge of proteomics. Additional contributions deal with legal and ethical implications of the new uses of genetic data, and functional genomics from the point of view of the pharmaceutical industry.
Table of contents
Introduction (J. Venter).

Electrophoresis-Based Fluorescent Dideoxy-Terminator Sequencing (J. Efcavitch).

Genomic Impact on Pharmaceutical Development (J. Venter).

From Transcription Regulation to Cell Cycle Checkpoint (R. Cai, et al.).

Mass Spectrometry Resurrects Protein-Approaches in Functional Genomics (M. Mann).

A Clinical Molecular Scanner to Study Human Proteome Complexity (D. Hochstrasser, et al.).

From Proteomics to Functional Analysis (J. van Oostrum, et al.).

Microbial Genome Sequencing: New Insights into Physiology and Evolution (C. Fraser).

Pharmacogenetics and Pharmacogenomics in the Discovery and Development of Medicines (A. Roses).

Mutagenesis and Genomics in the Mouse: Towards Systematic Studies of Mammalian Gene Function (S. Brown).

Biological Annotation of the Drosophila Genome Sequence (G. Rubin).

Applications of High-Density Oligonucleotide Arrays (R. Lipshutz).

Plasmodium Falciparum: From Genomic Sequence to Vaccines and Drugs (S. Hoffman & D. Carucci).

Functional Analysis of the Yeast Genome by Precise Deletion and Parallel Phenotypic Characterization (E. Winzeler, et al.).

Patenting Genes and Gene Therapy: Legal and Ethical Aspects (J. Straus).

Ethical Issues: From Genome to Therapy (D. Magnus).

The Impact of Genomics on Drug Discovery (P. Goodfellow).

From Genome to Therapy: Industry Perspective (P. Herrling).

Final General Discussion.

Indexes.
Reviews
"It does successfully convey to the reader areas of controversy" (Microbiology Today, November 2001)
"there are a number of nuggets in the book that make it worth a browse." (Pharmaceutical Physician, December 2001)
"I found this book fun to read." (Biochemistry & Molecular Biology Education, No.29 2001)
"Contributors...present 17 papers and the discussions they generated at the symposium." (SciTech Book News, Vol. 25, No. 4, December 2001)