From Modernization to Globalization: Perspectives on Development and Social Change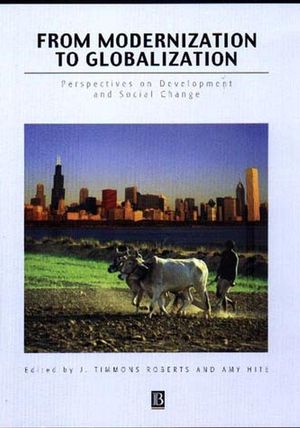 From Modernization to Globalization: Perspectives on Development and Social Change
ISBN: 978-0-631-21097-9 January 2000 Wiley-Blackwell 404 Pages
Description
From Modernization to Globalization is a reference for scholars, students and development practitioners on the issues of processes of social change and development in the "Third World". It provides carefully excerpted samples from both classic and up-to-date writings in the development literature, short, insightful introductions to each section and a general introduction.
Table of contents
Preface.
Acknowledgments.
Introduction: J. Timmons Roberts and Amy Hite.
Part I: Formative Ideas on the Transition to Modern Society:.
1. "Manifesto of the Communist Party" and "Alienated Labor": Karl Marx and Friedrich Engels.
2. Selections from The Division of Labor in Society: Emile Durkheim.
3. The Protestant Ethic and the Spirit of Capitalism: Max Weber.
Part II: How does Development Change People? Modernization Theories and the Intellectual Roots of the Development Project:.
4. Evolutionary Universals in Society: Talcott Parsons.
5. The Five Stages-of-Growth - A Summary: W. W. Rostow.
6. From A Study of Slum Culture: Backgrounds for LA VIDA: Oscar Lewis.
7. Excerpts from The Passing of Traditional Society: Daniel Lerner.
8. Making Men Modern: On the Causes of Individual Change in Six Developing Countries: Alex Inkeles.
9. From The Change to Change: Modernization, Development, and Politics, and Political Order in Changing Societies: Samuel Huntington.
Part III: Blaming The Victims? Dependency and World-Systems Theories Respond: .
10. The Development of Underdevelopment: Andre Gunder Frank.
11. Dependency and Development in Latin America: Fernando Henrique Cardoso and Enzo Faletto.
12. The Dynamics of Rural Poverty in Latin America: Alain de Janvry and Carlos Garramón.
13. The Rise and Future Demise of the World Capitalist System: Concepts for Comparative Analysis: Immanuel Wallerstein.
14. The Effects of International Economic Dependence on Development and Inequality: A Cross-National Study: Christopher Chase-Dunn.
15. Rethinking Development Theory: Insights from East Asia and Latin America: Gary Gereffi.
Part IV: Attempts to Understand Globalization and its Social Effects:.
16. The New International Division of Labor in the World Economy: Folker Fröbel, Jürgen Heinrichs, and Otto Kreye.
17. Globalization: Myths and Realities: Philip McMichael.
18. Capitalism: The Factory of Fragmentation: David Harvey.
19. Introduction from Has Globalization Gone Too Far?: Dani Rodrik.
20. Gender Industrialization, Transnational Corporations and Development: An Overview of Trends and Patterns: Kathryn B. Ward and Jean Larson Pyle.
21. Development after Ecology: Bob Sutcliffe.
22. Social Movements and Global Capitalism: Leslie Sklair.
23. Neoliberalism and the Sociology of Development: Emerging Trends and Unanticipated Facts: Alejandro Portes.
Index.
Features


Carefully excerpted samples from both classic and contemporary writings in development literature.


Short, insightful introductions for each section of the book.


A useful general introduction for undergraduate, graduate, and non- specialist audiences.
.