From Shane to Kill Bill: Rethinking the Western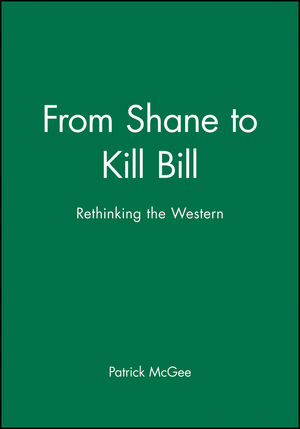 From Shane to Kill Bill: Rethinking the Western
ISBN: 978-1-405-13965-6 April 2006 Wiley-Blackwell 280 Pages
Description
From
Shane to Kill Bill: Rethinking the Western
is an original and compelling critical history of the American Western film.


Provides an insightful overview of the American Western genre

Covers the entire history of the Western, from 1939 to the present

Analyses Westerns as products of a genre, as well as expressions of political and social desires

Deepens an audience's understanding of the genre's most important works, including Shane, Stagecoach, The Searchers, Unforgiven, and Kill Bill

Contains numerous illustrations of the films and issues discussed.
Table of contents
List of Illustrations.
Preface.
1. Why Shane Never Comes Back.
Alan Ladd's Face.
What Shane Wants.
Why Shane Wears a Blue Collar.
Why Shane's Gun Sounds Like an Atom Bomb.
2. The Political Origin of the Western.
Owen Wister Went West.
The West Went to Hollywood.
Marx Goes West.
3. Crossing the Border.
Jefferson's Double-Cross (Stagecoach and Destry Rides Again).
The Virginian Crossed Out (The Westerner).
4. Revolutionary Hysteria.
The Hysterical Fascist Killer (Duel in the Sun).
Notorious Ladies (Johnny Guitar and The Quick and.
the Dead).
5. Bad Fathers Make Good Sons.
Shoot the Father (My Darling Clementine).
Don't Shoot the Father (Red River).
Forget the Father (The Searchers).
6. Men on the Verge of a Nervous Breakdown.
The Gunfighter and the Proletariat.
The Man Who Did Not Corrupt Hadleyville (High Noon).
The Men Who Save John Wayne (Rio Bravo).
The Man Who Shot John Wayne (The Man Who Shot Liberty.
Valance).
7. Magnificent Corpses.
Redemption through Destruction.
The Winners Are the Losers (The Magnificent Seven).
Only Death Will Do (The Wild Bunch).
8. Death's Landscape.
The Uses of the Dead.
Two Kinds of Men (The Dollars Trilogy).
Get Out of the Way (Once Upon a Time in the West and.
A Fistful of Dynamite).
Transcendence on a Pale Horse (The Eastwood Westerns).
9. Western Armageddon.
All Men Are Poets (McCabe and Mrs. Miller).
The Multitude at Heaven's Gate (Heaven's Gate).
Conclusion: Kill Bill, or Why Shane Always Comes Back.
References.
Index
Reviews
"Each chapter has a thesis explored at length, with analysis of selected films. The selection of film analyzed is well chosen with celebrated classics as well as the offbeat." (
Journal of Film and Video
, Fall 2009)
"McGee has written a rich, ambitious book. ... McGee's readings are richly informed by the work of his predecessors, and they are invariably thoughtful, bold, and challenging. Probably every reader who has seen the films discussed will find things to quarrel with, but almost certainly every reader will also find McGee's arguments a powerful inducement to give these films another careful look.
Summing Up:
Highly recommended." --
CHOICE, September 2007
"McGee is an astute observer of United States culture who offers trenchant discussion of the Western genre. He chooses his films strategically and reveals their textual strategies and historical meanings." Stan Corkin, University of Cincinnati
Features


Provides an original and insightful overview of the American Western genre

Covers the entire history of the Western, from 1939 to the present

Analyses Westerns as products of a genre, as well as expressions of political and social desires

Deepens an audience's understanding of the genre's most important works, including Shane, Stagecoach, The Searchers, Unforgiven, and Kill Bill