From Smart to Wise: Acting and Leading with Wisdom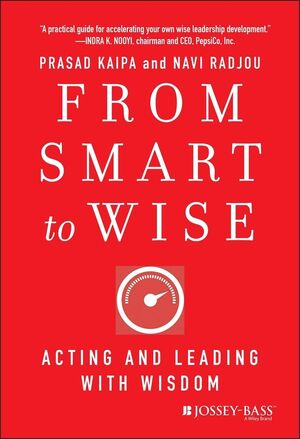 From Smart to Wise: Acting and Leading with Wisdom
ISBN: 978-1-118-29620-2
Mar 2013, Jossey-Bass
272 pages
Description
A fresh and timely approach to nurturing wise, resilient, and flexible leadership in a world of growing complexity
Leaders tend to obstinately stick to the leadership style that brought them most success in the past, usually one of two extreme styles: functional leadership that focuses on operational excellence or smart leadership that focuses on growth. When a leader's focus is too functional, the organization becomes introverted and can focus too much on bottom-line profitability while missing out on top-line growth opportunities. But when leaders focus too much on smart leadership, the organization may experience quick growth but lose its effectiveness quickly.
From Smart to Wise offers a new approach that balances the two styles to achieve a form of wise leadership that is both functional and smart. Drawing on inspiring real-life stories of historical and contemporary wise leaders such as Bill Gates, Warren Buffet, and even Mahatma Gandhi, the authors identify six characteristics of wise leaders and offer a practical framework to help readers develop their own style of wise leadership.
A timely and innovative approach to leadership
Written by noted speakers who conduct dozens of keynote speeches and workshops, training thousands of people annually
Preface ix
1 Wise Leaders Wanted 1
2 Shift Your Perspective: Connect to Your Noble Purpose 29
3 Be Aware of Your Action Orientation: Act Authentically and Appropriately 61
4 Gain Role Clarity: Lead from Any Position 85
5 Clarify Your Decision Logic: Decide with Discernment 113
6 Develop Flexible Fortitude: Know When to Hold and When to Fold 139
7 Discover Drivers of Your Motivation: Act with Enlightened Self-Interest 155
8 Cocreate a Field of Wise Leadership: Find Your Wisdom Logic 177
Notes 209
Acknowledgments 231
About the Authors 235
Index 237
"With examples from today's best leaders, Kaipa and Radjou have created a practical guide for accelerating your own wise leadership development, a true competitive advantage in today's rapidly changing world. We can all benefit from the self-reflection that From Smart to Wise encourages. By defining our unique 'noble purpose,' we can bring about meaningful change and progress in our companies, communities, and society."
—Indra K. Nooyi, chairman and CEO, PepsiCo, Inc.
"From Smart to Wise teaches the importance of working together and shows that everyone can contribute to making the world a better place."
—Alan Mulally, president and CEO, Ford Motor Company
"We are entering a new era of 'conscious capitalism' in which enlightened organizations will strive to serve a higher purpose that transcends profit maximization. This thought-provoking book proposes pragmatic pathways for smart leaders to become wise leaders who will run the conscious businesses of tomorrow."
—John Mackey, co-CEO and cofounder, Whole Foods Market
"An invaluable guide to negotiating leadership in a world that expects both reflection and decisive action from the C-suite. This enjoyable book reminds us that leadership success requires continual communication, motivation, and connection to a meaningful purpose."
—Beth Comstock, chief marketing officer, GE
"Leaders can't rely on smartness alone to solve the complex issues and paradoxes they face today. This seminal book shows how leaders across sectors can cultivate practical wisdom and use it to create sustainable value for all stakeholders."
—Klaus Schwab, founder and executive chairman, the World Economic Forum
"In a leadership landscape of greater volatility, uncertainty, and public attention, the wisdom conveyed by Kaipa and Radjou in From Smart to Wise will prove invaluable for any executive seeking lasting impact and fulfillment."
—Dominic Barton, global managing director, McKinsey & Company
"Few developments for leadership are more important in today's world than learning how to blend eastern wisdom traditions with western pragmatism. From Smart to Wise is an immensely practical guide for those who are serious about their development as leaders."
—Peter Senge, founding chair, Society for Organizational Learning; New York Times best-selling author, The Fifth Discipline
"Kaipa and Radjou remind us that at the top of the intelligence hierarchy isn't the individual genius but the genius maker who has the wisdom to lead for the common good and evoke the best in others. The path from smart to wise should be the aspiration of all who lead in the knowledge economy."
—Liz Wiseman, Wall Street Journal best-selling author, Multipliers
"Developing wisdom can turn a long and arduous trip into a compelling, sustainable, and inspiring leadership journey. Read this fascinating book and let it teach you the tools you'll need to go from smart to wise!"
—Marshall Goldsmith, New York Times best-selling author, MOJO and What Got You Here Won't Get You There
"From Smart to Wise is a practical and powerful book that reminds us of the ultimate destination of our leadership journeys: wisdom earned through experience and shared in service of others. Even better, Prasad Kaipa and Navi Radjou offer a step-by-step road map for getting there, complete with real-world examples sure to inspire and challenge us along the way."
—John R. Ryan, president and CEO, Center for Creative Leadership
"This extraordinary book takes the intangible concept of wisdom and brings it to life, giving it context and ways for us to practice wise leadership in our daily lives. Kaipa and Radjou show us how to connect with other leaders in today's interdependent world to cocreate a field of wise leadership. You must read From Smart to Wise. It is a journey worth taking."
—Cynthia Cherrey, president, the International Leadership Association; vice president, Princeton University
"Getting from smart to wise is the most important leadership challenge of the twenty-first century. Prasad Kaipa and Navi Radjou offer a guidebook to this transformation, one that any leader will find of great use."
—Daniel Goleman, author, Emotional Intelligence
"From Smart to Wise is a good example of what it talks about. It is wise, clear, and grounded in real experience. It reminds us that our humanity is the key to success in business, and also that a purpose greater than profit is needed to create a world that is fulfilling as well as productive."
—Peter Block, author, Stewardship and Abundant Community
"From Smart to Wise is a very timely and unique book. Kaipa and Radjou offer us a pathway to evolve from behaving smartly to acting and leading wisely, extending benefits of wise leadership not only to ourselves and our companies but also to our societies."
—Jeff Smith, CEO and cofounder, LUNAR Design
"From Smart to Wise is the book managers from all walks of life and in all institutions ought to read. Kaipa and Radjou credibly and convincingly make the point that smartness is no longer sufficient to be sustainably successful today and provide those interested in becoming wise leaders with a useful road map."
—Dr. Klaus M. Leisinger, chairman, Novartis Foundation for Sustainable Development
"Ordinary organizations become extraordinary organizations when some wise leaders embrace the collective good and invite others to do the same. From Smart to Wise is a magnificent book about how to become a person of wisdom and influence."
—Robert E. Quinn, professor, Ross School of Business, University of Michigan; author, Deep Change
"Kaipa and Radjou have spent most of their lives bringing the wisdom traditions to bear on the art of business. From Smart to Wise offers depth, context, and timeless tools to lift the mechanical into the noble, marrying the practical and the compassionate—a rare, effective, uplifting companion."
—Mark Nepo, best-selling author, Seven Thousand Ways to Listen and The Book of Awakening
"From Smart to Wise is a game changer! Read it to find how to apply practical wisdom in your business. Use the framework in this book to create your own wise leadership road map—and you too can become a highly effective leader like Warren Buffett, Ratan Tata, and Alan Mulally."
—Professor Theodore R. Malloch, Yale University; director, The Academy of Business in Society; and author, Doing Virtuous Business