From Sociology to Cultural Studies: New Perspectives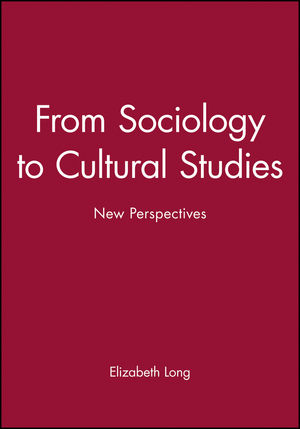 From Sociology to Cultural Studies: New Perspectives
ISBN: 978-1-577-18013-5 November 1997 Wiley-Blackwell 544 Pages
Description
This exciting collection of new essays suggests ways that cultural analysis can become more socially grounded, while also challenging sociology to learn from analytic perspectives developed outside the discipline.
Table of contents
List of Contributors.
Preface.
Introduction: Engaging Sociology and Cultural Studies: Disciplinarity and Social Change: Elizabeth Long (Rice University).
Part I: Thinking Through Memory and Tradition:.
1. Relativizing Sociology: The Challenge of Cultural Studies: Steven Seidman (State University of New York at Albany).
2. Reading Architecture in the Holocaust Museum: A Method and an Empirical Illustration: Magali Sarfatti Larson (Temple University).
3. Subject Crises and Subject Work: Repositioning DuBois: Jon Cruz (University of California, Santa Barbara).
4. Conserving Cultural Studies: Andres Goodwin and Janet Wolff (University of San Francisco and University of Rochester).
Part II: Reframing Popular Forms and Usages:.
5. Monsters and Muppets: The History of Childhood and Techniques of Cultural Analysis: Chandra Mukerji (University of California, San Diego).
6. Rewriting the Pleasure/Danger Dialectic: Tricia Rose (New York University).
7. Situating Television in Everyday Life: Reformulating a Cultural Studies Approach to the Study of Television Use: Ron Lembo (Amherst College).
8. Facing Up to What's Killing Us: Artistic Practice and Grassroots Social Theory: George Lipsitz.
Part III: Relating Cultural Processes and Social Inequality:.
9. Colliding Moralities Between Black and White Workers: Michele Lamont (Princeton University).
10. The Ideology of Intensive Mothering: A Cultural Analysis of the Best-Selling 'Gurus' of Appropriate Child-rearing: Sharon Hays (University of Virginia).
11. Mexican American Youth and the Politics of Caring: Angela Valenzuela (Rice University).
12. Jazz Tradition, Institutional Formation, and Cultural Practice: The Canon and the Street as Frameworks for Oppositional Black Cultural Politics: Herman Gray (University of California, Santa Cruz).
Part IV: Engaging Disciplinarity and Other Politics of Knowledge:.
13. The Social Construction of "Social Cunstruction": Notes on "Teddy Bear Patriarchy": Michael Schudson (University of California, San Diego).
14. Critical Cultural Studies as One Power/Knowledge Like, Among, and In Engagement with Others: George Marcus (Rice University).
15. The Men We Left Behind Us, or Reading Our Br(others): Narratives Around and About Feminism from White, Leftwing, Academic Men: Judith Newton and Judith Stacey (University of California at Davis and University of Southern California).
16. Re-Inventing Cultural Studies: Remembering for the Best Version: Richard Johnson (Nottingham Trent University).
17. Whither Cultural Studies?: Ellen Messer-Davidow (University of Minnesota).
Index.
Reviews
"Steve Redhead's book is a collection of pieces that show 'popular cultural studies' (as he calls it) at their most lucid and at the same time their most frustrating. The collection maps the shift form subculture- fairly rigid oppositional groups responding to dominant cultural trends-to clubcultures which are apparently more diverse, fragmentary and consumerist. This shift is framed within the move from 'moralistic individualism to hedonistic individualism'. as such the book maps Redhead's unique blend of socio-legal critique, demonstrating the centrality of the popular in the regulation and legitimation of society."
Bookends 1998
.<!--end-->
"Combining a thoughtful assessment of the intellectual roots of cultural studies with an impassioned inquiry into its future directions, this original and intellectually vibrant collection of essays is an important intervention in the field. By rigorously insisting on the importance of questions about social structure and social process to cultural studies' past, the authors of these essays demonstrate how a more socially oriented approach can revivify the tradition and strengthen its capacity fir practical and political intervention in the future. A 'must read' for anyone interested in the work that cultural studies can do." – Janice Radway, Duke University

"In this exciting collection, Long has drawn together scholars whose work represents the potential shared concerns and characteristics of sociology and cultural studies: that of responding to changes in the world and maintaining a sense of a project for a more egalitarian society. It will be of interest to sociologists and cultural studies scholars and students alike as a set of invigorating challenges to both fields." – Ann Gray, University of Birmingham, UK
Features
* First collection to address the connections between sociology and cultural studies.
* Newly commissioned articles from the most prominent scholars doing work in this area.
* Essays combine the empirical and theoretical work to make the link between sociology and the analytical perspectives found outside the discipline.