From Strategy to Change: Implementing the Plan in Higher Education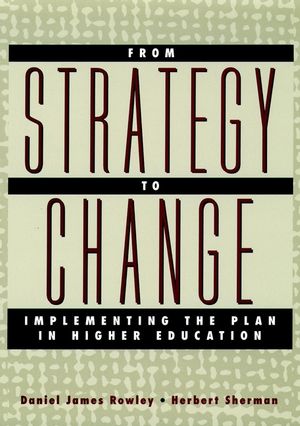 From Strategy to Change: Implementing the Plan in Higher Education
ISBN: 978-0-787-95431-4 April 2001 Jossey-Bass 384 Pages
Description
In From Strategy to Change-the last in a series-Daniel James Rowley comes full circle in defining his unique vision of the strategic planning process. Written with Herbert Sherman, From Strategy to Change shows how to take the next step after a strategic plan has been formulated. The authors clearly show how to implement a strategic plan that will meet the myriad challenges of today's complex higher education environment and spell success for the academy."It is amazing that while sports teams of colleges and universities meticulously plan their contests against their opponents, their institutions' administrators don't spend nearly enough time or effort in creating andimplementing a strategy. Institutions of higher education seem to be missing the requisite tools to develop and activate their 'play book.' With this new age of globally available real-time information, it becomes increasingly more essential to have a map to help go over and around obstacles, avoid the ever-present pitfalls, and effectively aid in selecting the best route. Rowley and Sherman provide such tools in this exciting and comprehensive new book. I wish that when I was a department chair, president of a faculty senate, and dean that this superb work was available. My function in planning would have been so much easier and more rewarding."--Barry R. Armandi, Distinguished Teaching Professor, SUNY - Old Westbury
Buy Both and Save 25%!
Original Price:$106.00
Purchased together:$79.50
save $26.50
Cannot be combined with any other offers.
Foreword.

Preface.

The Authors.

A FRAMEWORK FOR ASSESSING AND MAKING STRATEGIC CHOICES.

Forces of Change and the Importance of Strategic Planning

A Basic Choice Model for Traditional Academic Organizations.

Extending the Model to Nontraditional and Alternative EducationalProviders.

Refining the Model for Enhanced Competitive Positioning.

Tools and an Instrument for Applying the Model.

IMPLEMENTING STRATEGIC CHOICES.

The Hard Facts of Implementing Change.

Eleven Approaches to Implementing Successful StrategicChange.

Why Gradual Change is Most Effective.

The Human Factor in Strategic Change.

Navigation and Negotiation Strategies for Change Leaders.

Preserving and Nurturing Changes That Are Made.

From Strategy to Change: A Summary Perspective.

Resources:A. Miles and Snow?s List of Strategic Variables.

B. Glossary of Terms.

References.

Index.
"It is amazing that while sports teams of colleges and universitiesmeticulously plan their contests against their opponents, theirinstitutions' administrators don't spend nearly enough time oreffort in creating andimplementing a strategy. Institutions ofhigher education seem to be missing the requisite tools to developand activate their 'play book.' With this new age of globallyavailable real-time information, it becomes increasingly moreessential to have a map to help go over and around obstacles, avoidthe ever-present pitfalls, and effectively aid in selecting thebest route. Rowley and Sherman provide such tools in this excitingand comprehensive new book. I wish that when I was a departmentchair, president of a faculty senate, and dean that this superbwork was available. My function in planning would have been so mucheasier and more rewarding." (Barry R. Armandi, DistinguishedTeaching Professor, SUNY - Old Westbury)

"It represents a useful approach and orientation rather than aprescription." (Planning for Higher Education, 1/02)