From The Ground Up: Six Principles for Building the New Logic Corporation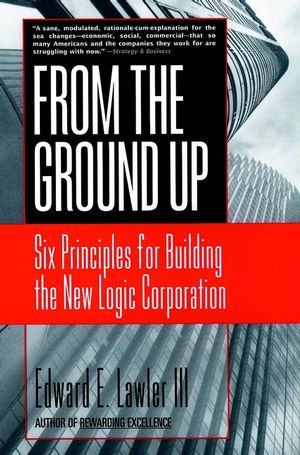 From The Ground Up: Six Principles for Building the New Logic Corporation
ISBN: 978-0-470-44086-5 August 2008 Jossey-Bass 336 Pages
Description
Selection of the Executive Program Book Club
For any manager or executive who's had it with quick-fix approaches to organizational transformation, here's a proven approach that lasts. In this paperback edition of the best-selling original work, management expert Ed Lawler presents six principles--and plenty of practical guidance--for overhauling an enterprise from bottom to top and bringing it into alignment with the realities of today's marketplace. Don't fall for yet another silver-bullet solution. This is the definitive approach to making the kind of substantive changes that will bolster your company's competitive stance, now and for years to come.
Table of contents
Preface.

The Author.

Introduction: The New Realities of Business Competition.

THE NEW LOGIC PRINCIPLES.

Changing the Assumptions: The New Logic Principles for Organizing.

Achieving High Performance: Turning Principles into Practice.

PUTTING THE PRINCIPLES TO WORK.

Business Strategy: Creating the Winning Formula.

Corporate Architecture: Structuring for High Performance.

Organization Design: Matching the Organization to the Business.

Work Design: Moving Beyond the Limits of Jobs to Work and Involvement.

Teams: Keys to Making them Successful.

PUTTING THE PRINCIPLES TO WORK: PEOPLE, REWARDS, COMMUNICATION, AND MEASUREMENT.

Human Resources: Managing People in New Logic Corporations.

Reward Systems: Paying for Teamwork, Competencies, and Performance.

Communication and Measurement: Supporting New Logic Management.

MANAGING CHANGE: THE NEW LOGIC CORPORATION AND BEYOND.

Making It Happen: Creating the New Logic Corporation.

Beyond the Corporation: The Impact of the New Logic on Society.

Notes.

Index.