From Timid To Tiger: A Treatment Manual for Parenting the Anxious Child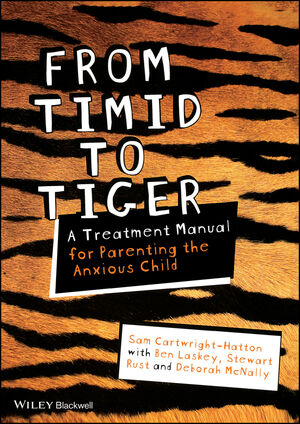 From Timid To Tiger: A Treatment Manual for Parenting the Anxious Child
ISBN: 978-0-470-68310-1 October 2010 186 Pages
Description
This book is an essential manual for mental health professionals who work with young anxious children and their parents. Organised into a 10-session parenting-based course, the book provides parents with simple cognitive behavioural techniques for helping their children to manage their worries and fears.
The first manual designed specifically to help therapists take parents through a step-by-step approach to managing young anxious children
The manual's empirical focus is highly effective in treating anxiety disorders in children under the age of 10
The provision of scripts throughout the book offer realistic illustrations of the techniques described
Stories and analogies included to explain the more complex concepts
Includes handouts which can be photocopied and useful additional materials
List of Contributors.
Preface.
Who Is This Book For?
Acknowledgements.
1 Theoretical Background to the Programme.
2 How to Use This Book.
3 Session One: Introduction to the Programme and Some Basic Concepts.
4 Session Two: Securing the Parent-Child Bond through Play.
5 Session Three: Understanding Children's Anxiety.
6 Session Four: Using Praise to Build Children's Confidence.
7 Session Five: Using Rewards to Get Children Motivated.
8 Session Six: Setting Limits on Anxious Children's Behaviour.
9 Session Seven: Using Withdrawal of Attention to Manage Children's Behaviour.
10 Session Eight: Managing Children's Worry.
11 Session Nine: Managing Really Difficult Behaviour: Time Out and Consequences.
12 Session Ten: Wrapping Up: Review, Managing School, Celebration.
Additional Resources.
Index.
"This book should be found in the library of every community and school based clinician working in children services."  (Behavioural & Cognitive Psychotherapy, 2012)
"As a mental health practitioner I found reading this book extremely helpful in understanding how to apply a framework of cognitive behavioural therapy (CBT) and Webster-Stratton style parenting training into a group programme."  (Young Minds, 1 June 2012)
""Organised as a 10-session parenting-based course, this step-by-step approach to conquering anxieties is easy to read and potentially life-changing."" (Family Interest Magazine, 1 August 2011)