From Wall Street to the Great Wall: How to Invest in China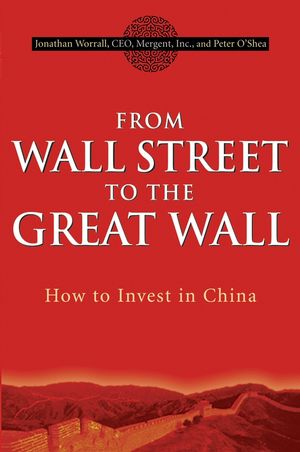 From Wall Street to the Great Wall: How to Invest in China
ISBN: 978-0-470-11468-1
Dec 2006
224 pages
Product not available for purchase
Description
From Wall Street to the Great Wall shows you how to safely invest in the expanding Chinese economy. Filled with in-depth insight and expert advice, this book provides you with a step-by-step template on how to cut across cultural, language, and geographical barriers and identify potential investment opportunities in one of the hottest markets in the world.
Foreword: Investing in China
by Ivan Chung, CFA.
Acknowledgments.
Introduction: The New Face of World Economics.
Part I A Premise for a New World View.
CHAPTER 1 An Economic History of China.
CHAPTER 2 Worldwide Change and the Globalization of Investments.
CHAPTER 3 Economic Forces at Work.
CHAPTER 4 Emerging Investment Themes: Global Supply and Demand.
CHAPTER 5 Stock Markets: Domestic and International.
Part II Methods and Strategies in the New Market.
CHAPTER 6 An Investorâ??s Road Map into China.
CHAPTER 7 Developing a China Strategy.
CHAPTER 8 An Analysis of Chinese Stocks and Funds.
CHAPTER 9 The World of Tomorrow.
CHAPTER 10 Research in the New Global Investment Environment.
Appendix: Information Sources and Research Tools.
Notes.
Index.