From the Boiler Room to the Living Room: The Financial Services Revolution and What it Means to You and Your Clients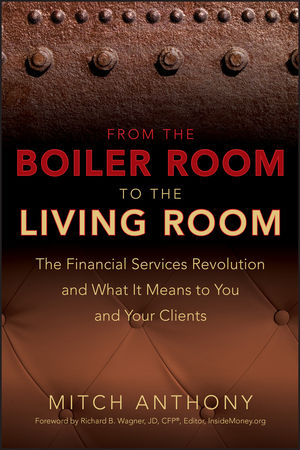 From the Boiler Room to the Living Room: The Financial Services Revolution and What it Means to You and Your Clients
ISBN: 978-0-470-25509-4
Aug 2008
240 pages
Description
Author Mitch Anthony has been recognized as the voice of conscience for the financial services industry. For more than a decade, he has shown advisors how building authentic, genuine relationships can serve clients' best interests and build heathly—and financially successful—practices at the same time.

In From the Boiler Room to the Living Room, Mitch examines where the financial services industry has failed in the past, and what it needs to do to restore trust at both the individual and industry levels. He teaches readers how to better understand the emotional significance of the money that clients entrust to their advisors and the struggles they face as they attempt to get ""more life for their money."" The book also discusses why venture philosophy, funding single moments, and rethinking one's purpose in life is more important to clients than net worth or asset allocation. Finally, it discusses how to develop dialogues that forge meaningful, long-term client connections—in other words, how to stop selling and start listening.
Foreword.
Acknowledgments.
Preface.
PART I: INDUSTRY RESOULUTIONS.
Chapter 1: If These Walls Could Talk.
Chapter 2: Speedometers and Odometers.
Chapter 3: The Warring Hand.
Chapter 4: I'm a Numbers Guy.
Chapter 5: A New Level of Integrity Beyond Disclosure.
Chapter 6: A New Value Proposition.
Chapter 7: A New Standard for Practice: Practicing World-Class Wealth Care.
Chapter 8: The New Frontier: Getting to the Right Side of the Advisory Business.
PART II: LIFE RESOULUTIONS.
Chapter 9: Permanent Reference Points: How the Financial Blueprint Is Formed.
Chapter 10: How We Measure Money.
Chapter 11: Spinning Out of Control.
Chapter 12: Protecting Your Clients from Half fluence.
Chapter 13: The End of Retirement as We Know It.
Chapter 14: What Do Your Clients Want Their Money to Do?
PART III: DIALOGUE RESOULUTIONS 143
Chapter 15: The History Dialogue: Finding Your Clients' Future in Their Past.
Chapter 16: Goals Are Overrated.
Chapter 17: Funding "Single Moments."
Chapter 18: The Parental Pension.
Chapter 19: By the Side of the Road: Dealing with the Big "What If . . ."
Chapter 20: A 100 Percent Certainty.
Chapter 21: The New Venture Philanthropy Dialogue.
Bibliography.
Index.