Frontiers in Transition Metal-Containing Polymers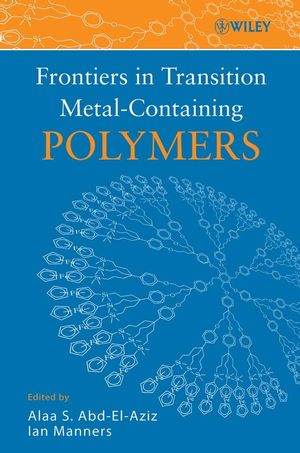 Frontiers in Transition Metal-Containing Polymers
ISBN: 978-0-470-08605-6 January 2007 704 Pages
Description
A detailed, up-to-date review of transition metal-containing polymers
Promising advances in the electrical, optical, magnetic, biological, and catalytic properties that metal-containing polymers possess have led to notable expansion in the field of transition metal-containing polymers. Frontiers in Transition Metal-Containing Polymers provides a comprehensive, up-to-date review of the synthesis, properties, and applications of transition metal-containing polymers, including an overview of the historical development of these types of polymers.
Written by the leading researchers in the field, this thorough volume covers the routes to organometallic and coordination polymers, as well as characterization and applications of transition metal-containing monomers and polymers. Other topics discussed include:
Metallo-supramolecular coordination polymers based on nitrogen ligands
Coordination polymers based on phosphorus ligands
Polypeptide-based metallobiopolymers and DNA-based metallopolymers
Metallodendrimers
Self-assembly of metal-containing block copolymers
Applications including drug delivery, optics, molecular devices, sensors, conductive materials, and more
Contributors.
Chapter 1. Organometallic Polymers. The Early Days (Charles U. Pittman, and Charles E. Carraher).
Chapter 2. Recent Developments in Organometallic Polymers (Alaa S. Abd-El-Aziz and Patrick O. Shipman).
Chapter 3. Block Copolymers with Transition Metals in the Main Chain (David A. Rider and Ian Manners).
Chapter 4. Metal Containing Conjugated Polymers (Mark J. MacLachlan).
Chapter 5. Metal Coordination Polymers for Nanofabrication (Wai Kin Chan, and Kai Wing Cheng).
Chapter 6. Rigid-Rod Polymetallaynes (Wai-Yeung Wong and Cheuk-Lam Ho).
Chapter 7. Polymers with Metal-Metal Bonds along Their Backbones (David Tyler).
Chapter 8. Structures and Properties of 1-D Transition Metal-Containing Coordination/Organometallic Polymers and Oligomers Built Upon Assembling Diphosphine and Diisocyanide Ligands (Pierre D. Harvey).
Chapter 9. Redox-based functionalities of multi-nuclear metal complex systems (Hiroshi Nishihara).
Chapter 10. Metallodendrimers and Their Potential Utilitarian Applications (Seok-Ho Hwang and George R. Newkome).
Chapter 11. Metallodendritic Iron Complexes: Design, Catalysis and Molecular Recognition (Didier Astruc).
Chapter 12. Polypeptide-Based Metallobiopolymers (Khaled A. Mahmoud and Heinz-Bernhard Kraatz).
Chapter 13. Supramolecular Metal Arrays on Artificial Metallo-DNAs and Peptides. (Mitsuhiko Shionoya).
Subject Index.
Metals Index.
"It is an excellent collection of research results and measured predictions for the future." (
Platinum Metals Review
, January 2008)
"...a very thorough review of the latest trends in metallopolymer research." (Journal of the American Chemical Society, May 20, 2007)
"The book has many strengths.  The coverage is excellent and comprehensive... This is a book that everyone working in the field should have within reach..."  (Journal of Inorganic and Organometallic Polymers and Materials, July 2007)