Functional Anatomy and Physiology of Domestic Animals, 4th Edition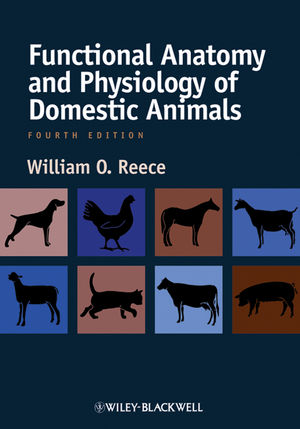 Functional Anatomy and Physiology of Domestic Animals, 4th Edition
ISBN: 978-0-813-81451-3
Feb 2009, Wiley-Blackwell
592 pages
Product not available for purchase
Description
Functional Anatomy and Physiology of Domestic Animals, Fourth Edition provides a thorough grounding in the structure and function of animal body systems. Taking an integrated approach to the basics of anatomy and physiology, the book helps readers understand their interconnection in common domestic species. With chapters logically arranged by system, Functional Anatomy and Physiology of Domestic Animals offers students in pre-veterinary or veterinary technology programs an excellent introduction to body systems and acts as a quick review of the basics for more advanced courses or in the clinical setting.
Chapter 1. Basics of Structure and Function.
Chapter 2. Body Water: Properties and Functions.
Chapter 3. Blood and Its Functions.
Chapter 4. Nervous System.
Chapter 5. The Sensory Organs.
Chapter 6. Endocrine System.
Chapter 7. Bones, Joints, and Synovial Fluid.
Chapter 8. Muscle.
Chapter 9. The Cardiovascular System.
Chapter 10. The Respiratory System.
Chapter 11. The Urinary System.
Chapter 12. Digestion and Absorption.
Chapter 13. Body Heat and Temperature Regulation.
Chapter 14. Male Reproduction.
Chapter 15. Female Reproduction.
Chapter 16. Lactation
"The fourth edition of
Functional Anatomy and Physiology of Domestic Animals
is a marked improvement over previous editions.... the illustrations are wonderful... [and] allow readers to visualize the structure in a cohesive manner.... well written and inclusive of all relevant material for a basic anatomy course." -
Journal of the American Veterinary Medical Association
, September 2009
"This is a serious book for the veterinary student, a reference for the veterinarian or technician, and a good book to have in your library." - Veterinary Information Network
"The fourth edition of Functional Anatomy and Physiology of Domestic Animals provides a thorough overview of the structure and function of animal body systems." - Veterinary Forum, May 2009


Provides an introduction to the structure and function of animal body systems in the horse, dog, cat, cow, sheep, goat, pig, and chicken


Takes a combined approach to anatomy and physiology for an increased understanding of their interconnection


Includes expanded coverage of avian topics and more information on body water and electrolytes


More than 350 illustrations aid in comprehension


Incorporates learning tools such as chapter outlines, study aid questions, self-evaluation exercises, clinical correlates, bolded key terms, and suggested reading