Functional Coatings: By Polymer Microencapsulation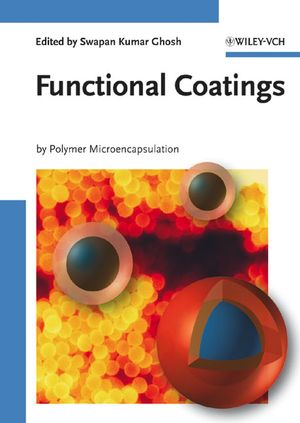 Functional Coatings: By Polymer Microencapsulation
ISBN: 978-3-527-60841-6
Aug 2006
371 pages
Description
This first book to concentrate on providing a concise, representative overview of polymer microencapsulation for novel organic coatings and all its chemical and engineering aspects collates the literature hitherto spread out among journals in various disciplines. It covers all the important methods for carrying out microencapsulations, including in situ polymerization, phase separation, emulsification, grinding and spray drying. The result is a solid, introduction from first-hand practitioners working in industry and research institutions for newcomers to the field. It is equally vital reading for professionals already active in the area needing to stay abreast of developments.
Functional Coatings And Microencapsulation: A General Perspective
Encapsulation Through (Mini)emulsion Polymerization
Microcapsules Through Layer-by-Layer Assembly Technique
Polymer Encapsulation of Inorganic Particles
Microencapsulation Of Liquid Active Agents
Polymer Encapsulation and Conductive Coatings
Smart Textiles using The Micro Encapsulation Technology
Encapsulation Through Sol-gel Technique and Their Applications in Functional Coatings
Electrolytic Co-deposition of Microencapsulated Particles
""
FC
is a largely qualitative and descriptive book which makes it quiet readable."" (
Journal of Metals
, July 20, 2008)
""The graphics are of high quality and this applies to the general appearance of the whole book. Impressive is the very comprehensive coverage of the relevant literature."" (ChemPhysChem, 2008)