Functional Fillers for Plastics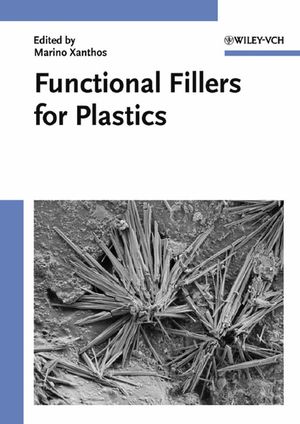 Functional Fillers for Plastics
ISBN: 978-3-527-60442-5
Mar 2006
451 pages
Description
A comprehensive and up-to-date overview of the major mineral and organic fillers for plastics, their production, structure and properties, as well as their applications in terms of primary and secondary functions. Edited and co-authored by Professor Marino Xanthos with contributions by international experts from industry and academia, the book presents methods of mixing/incorporation technologies, surface treatments and modifications for enhanced functionality, an analysis of parameters affecting filler performance and a presentation of current and emerging applications. Additionally, the novel classification according to modification of specific polymer properties rather than filler chemical composition will provide a better understanding of the relationships between processing, structure and properties of products containing functional fillers and the identification of new markets and applications.

For engineers, scientists and technologists involved in the industrially important sector of polymer composites.
Preface.
List of Contributors.
Part I: Polymers and Fillers.
1 Polymers and Polymer Composites.
2 Modif ication of Polymer Mechanical and Rheological Properties with Functional Fillers.
3 Mixing of Fillers with Plastics.
Part II: Surface Modif iers and Coupling Agents.
4 Silane Coupling Agents.
5 Titanate Coupling Agents.
6 Functional Polymers and Other Modif iers.
Part III: Fillers and their Functions.
7 Glass Fibers.
8 Mica Flakes.
9 Nanoclays and Their Emerging Markets.
10 Carbon Nanotubes/Nanofibers and Carbon Fibers.
11 Natural Fibers.
12 Talc.
13 Kaolin.
14 Wollastonite.
15 Wood Flour.
16 Calcium Carbonate.
17 Fire Retardants.
18 Conductive and Magnetic Fillers.
19 Surface Property Modif iers.
20 Processing Aids.
21 Glass and Ceramic Spheres.
22 Bioactive Fillers.
23 In Situ Generated Fillers: Organic–Inorganic Hybrids.
"…the various authors all do a good job of thoroughly and clearly presenting their subjects in an easy-to-read fashion." (
CORROSION
, December 2006)
"...this is a book that I can recommend: it offers an excellent balance of polymer chemistry and materials engineering. Having already made use of the information contained within, I can attest to its utility and recommend it highly." (Advanced Materials)