Fundamental Molecular Biology, 2nd Edition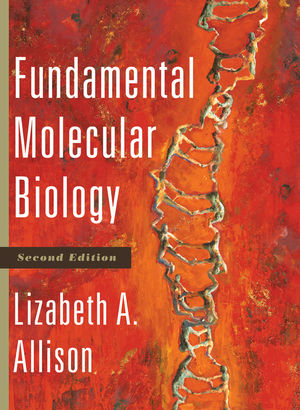 Fundamental Molecular Biology, 2nd Edition
ISBN: 978-1-118-05981-4
Oct 2011
672 pages
Description
Perfect for a single term on Molecular Biology and more accessible to beginning students in the field than its encyclopedic counterparts, Fundamental Molecular Biology provides a distillation of the essential concepts of molecular biology, and is supported by current examples, experimental evidence, an outstanding art program, multimedia support and a solid pedagogical framework. The text has been praised both for its balanced and solid coverage of traditional topics, and for its broad coverage of RNA structure and function, epigenetics and medical molecular biology.
1.The Beginnings of Molecular Biology
2.The Structure of DNA
3.The Versatility of RNA
4.Protein Structure and Folding
5.Genome Organization and Evolution
6.DNA Replication and Telomere Maintenance
7.DNA Repair Pathways
8.Recombinant DNA Technology and Molecular Cloning
9.Tools for Analyzing Gene Expression
10.Transcription in Bacteria
11.Transcription in Eukaryotes
12.Epigenetic Mechanisms of Gene Regulation
13.RNA Processing and Posttranscriptional Gene Regulation
14.The Mechanism of Translation
15.Genetically Modified Organisms
16.Genome Analysis
17.Medical Molecular Biology
• Real Data is presented throughout the text to give students the opportunity to work with real experimental details as they learn the core fundamentals; "Real data" icons appear to notify the students when real data appears in the narrative.
• "Discovery Figures" new design of important figures allows students to study the art and captions as part of their learning of the core concepts and as part of discovery of important details germane to the chapter. These figures emulate the books approach, highlighting the process of discovery, emphasizing both the big picture and the key details of important topics, showing students how we look at the big picture and the details of important topics.
• Updated Tool Boxes, Focus Boxes, and Disease Boxes throughout the textbook.
• Supported by the Wiley Resource kit. The Wiley Resource Kit provides an easy way to provide you with media & assessment. The Resource Kit can be delivered through any Learning Management System (LMS). The offer is free to students, requires no cartridge or CTB license fees from Wiley.
• Focuses primarily on eukaryotic examples but includes key comparisons with prokaryotic organisms where it is appropriate
• Includes all-original artwork providing the clearest possible insight into complex concepts. All artwork is available for faculty on the instructor companion website.
• Pedagogical boxes throughout explain additional concepts and topics in molecular biology:
 -TOOLS BOXES explore key experimental methods and techniques in molecular biology
-FOCUS BOXES offer more detailed treatment of topics and delve into experimental strategies, historical background and areas for further exploration
-DISEASE BOXES illustrate key principles of molecular biology by examining diseases that result from gene defects
• Includes access to Wiley Resource Kit. An interactive website featuring all artwork, animations of key processes, and additional, useful, student comprehension material.