Fundamentalism, 2nd, Revised and Updated Edition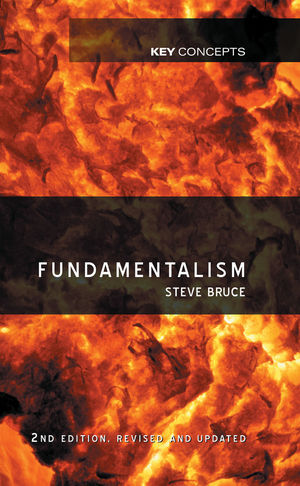 Fundamentalism, 2nd, Revised and Updated Edition
ISBN: 978-0-745-64075-4 March 2008 Polity 160 Pages
Description
The new edition of Steve Bruce's Fundamentalism grapples with the combination of social strains and religious ideas that have produced an explosion of fundamentalist activity in the wake of 9/11.





In a direct and punchy style, the new edition of his book investigates what lies behind the actions of Al-Qaeda, suicide bombings and the 'war against terror', and also gets to grips with the continuing rise of the Christian Right in the USA. It offers new insights into the Protestant fundamentalism of the American political right-wing, looking at the influence issues such as abortion, gay rights and 'intelligent design' have had on US foreign policy and domestic politics.





Bruce's broad sociological analysis rejects the narrowly-conceived notion that fundamentalists are suffering from some kind of abnormal psychology, persuasively demonstrating fundamentalism's importance as a symptom of rapid social change.


Social science has generally focused on the social circumstances that produce extremist movements and regarded their religious ideologies as window-dressing. This study takes the religious elements of fundamentalism seriously.





Topics tackled in the book include:



Why are some religions more likely than others to produce fundamentalism?

Why do they differ in their willingness to use violence to pursue their goals?

Does fundamentalism pose a serious challenge or sustainable alternative to the secular, liberal democracy of Western society?
This thought-provoking and highly topical book will be essential reading for students of any discipline drawing on the sociology of religion. It will also appeal to those beyond the academic community who want to know what fundamentalism really means today.
Acknowledgements.
Introduction to the Second Edition.
1 The Nature of the Beast.
2 Modernity: the Great Satan.
3 Islamic Fundamentalism.
4 Fundamentalism in the USA.
5 Fundamentalisms: Causes and Consequences.
Bibliography.
"Admirably concise, the book presents a comprehensive treatment of the subject ... It's a highly engaging and accessible introduction."
Times Higher Education
"Steve Bruce writes always with great lucidity from a clearly stated point of view. His essay on fundamentalism is no exception. It is well informed and easily accessible and it deserves to be taken seriously even by people who disagree with his view."
Martin Riesebrodt, University of Chicago
"The term fundamentalism is generally used carelessly, and often used rhetorically to suggest (for example) that American (or Ulster) conservative Protestants are on a par with Islamist radicals. In this important and definitive book Steve Bruce provides a trenchant sociological analysis of what fundamentalism is, and outlines its kinds, causes and consequences. He also sets his analysis of fundamentalism in the context of an extremely succinct account of secularisation. In particular he shows that fundamentalism of whatever kind has no chance of succeeding. This is a very useful book for the commentariat as well the interested educated reader."
David Martin, London School of Economics and Political Science
"Trenchant, informative and wide-ranging, Steve Bruce's book demolishes popular myths, forcing us to confront the complex social realities of traditionally-minded religious communities threatened by the incursions of secular modernity. Fundamentalism is essential reading for anyone seeking to understand the dynamics of religion in the contemporary world."
Alan Aldridge, University of Nottingham


topical and important Key Concepts volume


lively and accessible analysis of the full range of fundamentalisms


now updated to include discussions of the implications of 9/11 and the resurgence of Islam


author is well-established in this field, and read widely across the world


suitable for use in a range of different social science subjects.