Fundamentals of Agribusiness Finance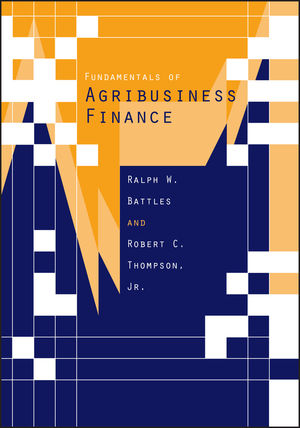 Fundamentals of Agribusiness Finance
ISBN: 978-0-813-82069-9
Jan 2001, Wiley-Blackwell
320 pages
Description
Begins with an overview of domestic and international trends and covers the basics of loans (mortgages and deeds of trust) and time values of money (interest, discounting, calculations and amortization, refinancing, cash budgeting, and graphing loans). Useful as a guide for practitioners, the the text was actually designed for teaching with outlines at the beginning of chapters, and study questions and problems at each chapter's end.
Preface.
1. Introduction to Agribusiness Finance; Agribusiness Finance; Agribusiness Producers; Flow of Funds in the Economy; Importance of Finance to Agribusiness; Domestic Trends in Agribusiness Finance; International Trends; Questions and Problems.
2. Agribusiness Loans: Legal Issues, Terms, and Interest Rates; Promissory Note; Parties to Loan Transactions; Security Agreement; Mortgages Versus Deeds of Trust; Other Loan Terminology; Life Cycle of a Loan; Default and Foreclosure; Determinants of Interest Rates; Questions and Problems.
3. Time Value of Money, Loan Calculations, and Analysis; The Time Value of Money; Compound Interest; Intraperiod Compounding; The Process of Discounting; Annuities; Present Value of an Annuity; Basic Loan Calculations; Building an Amortization Schedule; Loan Balance; Determining the Annual Percentage Rate; Refinance Analysis; Cash Budgeting; Graphing Loans; Questions and Problems.
4. Capital Budgeting and Leasing; The Cost of Capital; Capital Budgeting Techniques; Income Taxes and Capital Budgeting; Other Considerations Regarding Capital Budgeting; Leases and Leasing; Questions and Problems;.
5. Financial Statements; Generally Accepted Accounting Principles and the Farm Financial Standards Council; The Income Statement; The Statement of Owner's Equity; The Balance Sheet; The Accrual-Adjusted Income Statement; The Statement of Cash Flows; Questions and Problems.
6. Financial Statement Analysis; Liquidity Ratios; Solvency Ratios; Profitability Ratios; Repayment Capacity Ratios; Financial Efficiency Ratios; Loan-to-Value Ratio; Common-Size Statements and Horizontal Analysis; Questions and Problems.
7. Risk in Agribusiness; Financial and Business Risk; Attitudes Toward Risk; Sources of Business Risk in Agriculture; Risk Management in Agriculture; Questions and Problems.
8. The Agricultural Lending Industry: Commercial Banks and the Farm Credit System; Commercial Banks; The Farm Credit System; Questions and Problems.
9. Other Agribusiness Lenders; Vendor/Trade Credit; Life Insurance Financing; Farm Service Agency; Federal Agricultural Mortgage Corporation (Farmer Mac) and the Secondary Market; Private Financing; Beyond the Year Two Thousand; Questions and Problems.
Appendix.
Glossary.
Index
* concise , handy guide
* clear and direct explanations