Fundamentals of Analytical Toxicology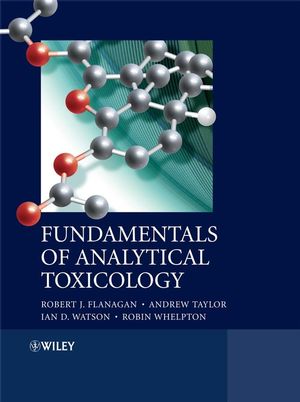 Fundamentals of Analytical Toxicology
ISBN: 978-0-470-51628-7 February 2008 544 Pages
Download Product Flyer
Download Product Flyer
Download Product Flyer is to download PDF in new tab. This is a dummy description. Download Product Flyer is to download PDF in new tab. This is a dummy description. Download Product Flyer is to download PDF in new tab. This is a dummy description. Download Product Flyer is to download PDF in new tab. This is a dummy description.
Description
The analytical toxicologist may be required to detect, identify, and in many cases measure a wide variety of compounds in samples from almost any part of the body or in related materials such as residues in syringes or in soil. This book gives principles and practical information on the analysis of drugs and poisons in biological specimens, particularly clinical and forensic specimens.
After providing some background information the book covers aspects of sample collection, transport, storage and disposal, and sample preparation. Analytical techniques - colour tests and spectrophotometry, chromatography and electro­phoresis, mass spectrometry, and immunoassay – are covered in depth, and a chapter is devoted to the analysis of trace elements and toxic metals. General aspects of method implementation/validation and laboratory operation are detailed, as is the role of the toxicology laboratory in validating and monitoring the performance of point of care testing (POCT) devices. The book concludes with reviews of xenobiotic absorption, distribution and metabolism, pharmacokinetics, and general aspects of the interpretation of analytical toxicology results.
A clearly written, practical, integrated approach to the basics of analytical toxicology.
Focuses on analytical, statistical and pharmacokinetic principles rather than detailed applications.
Assumes only a basic knowledge of analytical chemistry.
An accompanying website provides additional material and links to related sites.
Written by an experienced team of authors,Fundamentals of Analytical Toxicology is an invaluable resource for those starting out in a career in analytical toxicology across a wide range of disciplines including clinical and forensic science, food safety, and pharmaceutical development. 
Praise from the reviews:

"This is an ambitious effort to describe in detail the many and varied aspects of the science of toxicological analysis. The 17 chapters cover every foreseeable aspect, from specimen collection through analytical techniques and quality control to pharmacological principles and interpretation of results. The authors bring together a great deal of experience in the field and have succeeded admirably in achieving their goal: "to give principles and practical information on the analysis of drugs, poisons and other relevant analytes in biological specimens...". The book is very readable and quite up-to-date, and contains many illustrative figures, charts and tables. Both the student and the practicing professional would do well to study this material carefully, as there is something here for every conceivable level of interest."   Review from Randall Baselt
"This text comes highly recommended for any analytical toxicology trainee." The Bulletin of the Royal College of Pathologists
"Overall, this book provides a comprehensive, thorough, clear, up to date and practical treatment of analytical toxicology at a high standard.  Understanding of the text is enhanced by the use of many illustrations.  Specifications, guidelines, and methods are highlighted in grey background "Boxes".  The many and up to date literature references in each chapter demonstrate the authors' thorough work and permit easy access to deeper information.  Therefore this book can be highly recommended as a valuable source of knowledge in analytical toxicology both as an introduction and for the advanced reader."  GTFCh Bulletin "Toxichem + Krimtech", May 2008 (translated, original review in German)
"Many toxicologists will add this important reference to their libraries because it competently fills a need ..." International Journal of Toxicology
"The book is very well illustrated, easy to understand and pleasant to read, and contains a wealth of dedicated information." International Journal of Environmental Analytical Chemistry
Table of contents
Preface.
Health and Safety.
Nomenclature, Symbols and Conventions.
Amount Concentration and Mass Concentration.
Acknowledgements.
Lit of Abbreviations.
1. Analytical Toxicology: overview.
1.1 Introduction.
1.2 Modern analytical toxicology.
1.3 Provision of analytical toxicology services.
1.4 Applications of analytical toxicology.
1.5 Summary.
2. Sample Collection, transport, and Storage.
2.1 Introduction.
2.2 Clinical samples and sampling.
2.3 Guidelines for sample collection for analytical toxicology.
2.4 Sample transport and storage.
2.5 Common interferences.
2.6 Summary.
3. Sample Preparation.
3.1 Introduction.
3.2 Modes of sample preparation.
3.3 Measurement of nonbound plasma concentrations.
3.4 Hydrolysis of conjugated metabolites.
3.5 Extraction of drugs from tissues.
3.6 Derivatization.
3.7 Summary.
4. Colour tests, and Spectrophotometric and Luminescence techniques.
4.1 Introduction.
4.2 Colour tests.
4.3 UV/visible spectrophotometry.
4.4 Luminescence.
4.5 Summary.
5. Introduction to Chromatography and Capillary Electrophoresis.
5.1 General introduction.
5.2 Theoretical aspects of chromatography.
5.3 Measurement of analyte retention.
5.4 Summary.
6. Thin-Layer Chromatography.
6.1 Introduction.
6.2 Preparation of thin-layer plates.
6.3 Sample application.
6.4 Developing the chromatogram.
6.5 Visualizing the chromatogram.
6.6 Retention factor (Rf).
6.7 Toxi-Lab.
6.8 High-performance thin-layer chromatography.
6.9 Quantitative thin-layer chromatography.
6.10 Summary. 
7. Gas Chromatography.
7.1 Introduction.
7.2 Instrumentation.
7.3 Columns and column packings.
7.4 Derivatization for GC.
7.5 Chiral separations 166
7.6 Applications of gas chromatography in analytical toxicology.
7.7 Summary.
8. High-Performance Liquid Chromatography.
8.1 Introduction.
8.2 HPLC: general considerations.
8.3 Detection in HPLC.
8.4 Columns and column packings.
8.5 Modes of HPLC.
8.6 Chiral separations.
8.7 Derivatives for HPLC.
8.8 Use of HPLC in analytical toxicology.
8.9 Summary.

9. Capillary Electrophoretic Techniques.
9.1 Introduction.
9.2 Electrophoretic mobility.
9.3 Efficiency and zone broadening.
9.4 Sample injection.
9.5 Detection.
9.6 Reproducibility of migration time.
9.7 Applications of capillary electrophoresis.
9.8 Micellar electrokinetic capillary chromatography.
9.9 Other capillary electrokinetic modes.
9.10 CE techniques in analytical toxicology.
9.11 Chiral separations.
9.12 Summary.
10. Mass Spectrometry.
10.1 Introduction.
10.2 Instrumentation.
10.3 Presentation of mass spectral data.
10.4 Gas chromatography-mass spectrometry.
10.5 Liquid chromatography-mass spectrometry.
10.6 Interpretation of mass spectra.
10.7 Quantitative mass spectrometry.
10.8 Summary.
11. Trace Elements and Toxic Metals.
11.1 Introduction.
11.2 Sample collection and storage.
11.3 Sample preparation.
11.4 Atomic spectrometry.
11.5 Colorimetry and fluorimetry.
11.6 Electrochemical methods.
11.7 Catalytic methods.
11.8 Neutron activation analysis.
11.9 Chromatographic methods.
11.10 Quality assurance.
11.11 Summary.
12. Immunoassays and enzyme-Based Assays.
12.1 Introduction.
12.2 Basic principles of competitive binding assays.
12.3 Heterogeneous immunoassays.
12.4 Homogenous immunoassays.
12.5 Microparticulate and turbidimetric immunoassays.
12.6 Assay calibration, quality control and quality assurance.
12.7 Interferences and assay failures.
12.8 Enzyme-based assays.
12.9 Summary.
13. Toxicology testing at the Point of Care.
13.1 Introduction.
13.2 Use of POCT.
13.3 Analytes.
13.4 Interferences and adulterants.
13.5 Quality assurance.
13.6 Summary.
14. Basic Laboratory Operations.
14.1 Introduction.
14.2 Aspects of quantitative analysis.
14.3 Use of internal standards.
14.4 Method comparison.
14.5 Nonparametric statistics.
14.6 Quality control and proficiency testing.
14.7 Operational considerations.
14.8 Summary.
15. Absorption, Distribution, Metabolism and Excretion of Xenobiotic Compounds.
15.1 Introduction.
15.2 Routes of administration.
15.3 Absorption.
15.4 Distribution.
15.5 Metabolism.
15.6 Excretion.
15.7 Summary.
16. Pharmacokinetics.
16.1 Introduction.
16.2 Fundamental concepts.
16.3 Absorption and elimination.
16.4 Drug accumulation.
16.5 Sustained-release preparations.
16.6 Non-linear pharmacokinetics.
16.7 Multicompartment models.
16.8 Model-independent pharmacokinetic parameters.
16.9 Pharmacokinetics and the interpretation of results.
16.10 Summary.
17. Clinical Interpretation of Analytical Results.
17.1 Introduction.
17.2 Pharmacogenetics.
17.3 Effects of age, sex and disease on drug disposition.
17.4 Enzyme induction and inhibition.
17.5 Investigation of acute poisoning.
17.6 Postmortem toxicology.
17.7 Gazetteer.
17.8 Summary.
Index.
Reviews
?This book will be an excellent text for those studying analytical science or forensic science courses. It is well presented and easy to read, and contains detailed information throughout. I would recommend this text to both students and professionals in the fields of analytical science and toxicology. ?(
Reviews
, May 2009)
"This text comes highly recommended for any analytical toxicology trainee." (The Bulletin of the Royal College of Pathologists, April 2009)
"The book will be welcomed in the resource arsenal of the practicing toxicologist. Many toxicologists will add this important reference to their libraries because it competently fills a need at an acceptable cost." (International Journal of Toxicology, September 2008)
"The book is very well illustrated, easy to understand and pleasant to read, and contains a wealth of dedicated information." (International Journal of Environmental and Analytical Chemistry, August 2008)
Features
A clearly written, practical, integrated approach to the basics of analytical toxicology
Focuses on analytical, statistical and pharmacokinetic principles rather than detailed applications
Assumes only a basic knowledge of analytical chemistry
Follows the International Union of Pure and Applied Chemistry (IUPAC) nomenclature for chemical names
Experienced, well-known author team