Fundamentals of Corporate Finance, 3rd Edition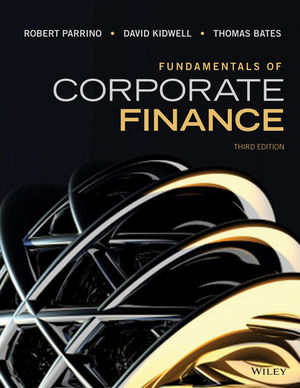 Fundamentals of Corporate Finance, 3rd Edition
ISBN: 978-1-118-90166-3 September 2014 784 Pages
Description
Fundamentals of Corporate Finance, 3rd Edition by Robert Parrino, David Kidwell, and Thomas Bates develops the fundamental concepts underlying corporate finance in an intuitive manner while maintaining a strong emphasis on developing computational skills. The authors believe that students who understand the intuition underlying the basic concepts of finance are better able to develop the critical judgments necessary to apply financial tools in real decision-making situations. The Third Edition offers a level of rigor that is appropriate for both business and finance majors and presents the content in a manner that all students find accessible and engaging.
Table of contents
PART 1 INTRODUCTION
1. The Financial Manager and the Firm
PART 2 FOUNDATIONS
2. The Financial System and the Level of Interest Rates
3. Financial Statements, Cash Flows, and Taxes
4. Analyzing Financial Statements
PART 3 VALUATION OF FUTURE CASH FLOWS AND RISK
5. The Time Value of Money
6. Discounted Cash Flows and Valuation
7. Risk and Return
8. Bond Valuation and the Structure of Interest Rates
9. Stock Valuation
PART 4 CAPITAL BUDGETING DECISIONS
10. The Fundamentals of Capital Budgeting
11. Cash Flows and Capital Budgeting
12. Evaluating Project Economics and Capital Rationing
13. The Cost of Capital
PART 5 WORKING CAPITAL MANAGEMENT & FINANCING DECISIONS
14. Working Capital Management
15. How Firms Raise Capital
16. Capital Structure Policy
17. Dividends, Stock Repurchases, and Payout Policy
PART 6 BUSINESS FORMATION, VALUATION, AND FINANCIAL PLANNING
18. Business Formation, Growth, and Valuation
19. Financial Planning and Forecasting
PART 7 OPTIONS IN CORPORATE FINANCE AND INTERNATIONAL DECISIONS
20. Options and Corporate Finance
21. International Financial Management
New To This Edition
ORION: Based on cognitive science, WileyPLUS with ORION helps students learn by learning about them.
An Intuitive Approach: Finance concepts are explained in an intuitive context to help students develop a richer understanding of those concepts and gain better insights into how finance problems can be approached.
Analysis and Problem Solving: In addition to the many numerical examples that are solved in the text of each chapter, this book has almost 1,200 end-of-chapter homework and review problems that have been written with Bloom's Taxonomy in mind.
Decision Making: In the end, we want to prepare students to make sound financial decisions. To help students develop these skills, we illustrate throughout the texthow the results from financial analyses are used in decision making.
Features
An Intuitive Approach: Explaining finance concepts in an intuitive context helps students develop a richer understanding of those concepts and gain better insights into how finance problems can be approached. Building Intuition boxes provide a statement of an important finance concept along with an intuitive example or explanation to help the student "get" the concept.
Learning by Doing applications contain quantitative problems with step-by-step solutions to help students better understand how to apply their intuition and analytical skills to solve problems.
Decision-Making Examples emphasize the decision-making process along with computation and provide students at all levels with experience in financial decision-making.
Adaptive Learning: WileyPLUS is equipped with an adaptive learning module called ORION. It provides students with a personal, adaptive learning experience so they can build their proficiency on topics and use their study time most effectively.
Finance Weekly Updates: www.wileyfinanceupdates.com. Every week brings you the latest news relevant to your Finance course. Password only available to current users.