Fundamentals of Corporate Finance, 4th Edition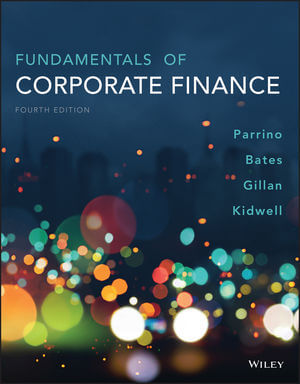 Fundamentals of Corporate Finance, 4th Edition
ISBN: 978-1-119-37143-4
Dec 2017
Description
Parrino's Fundamentals of Corporate Finance develops the key concepts of corporate finance with an intuitive approach while also emphasizing computational skills, enabling students to develop the critical judgments necessary to apply financial tools in real decision-making situations. The fourth edition offers a level of rigor that is appropriate for both business and finance majors.
PART 1: INTRODUCTION
1. The Financial Manager and the Firm
PART 2: FOUNDATIONS
2. The Financial System and the Level of Interest Rates
3. Financial Statements, Cash Flows, and Taxes
4. Analyzing Financial Statements
PART 3: VALUATION OF FUTURE CSAH FLOWS AND RISK
5. The Time Value of Money
6. Discounted Cash Flows and Valuation
7. Risk and Return
8. Bond Valuation and the Structure of Interest Rates
9. Stock Valuation
PART 4: CAPITAL BUDGETING DECISIONS
10. The Fundamentals of Capital Budgeting
11. Cash Flows and Capital Budgeting
12. Evaluating Project Economics
13. The Cost of Capital
PART 5: WORKING CAPITAL MANAGEMENT AND FINANCING DECISIONS
14. Working Capital Management
15. How Firms Raise Capital
16. Capital Structure Policy
17. Dividends, Stock Repurchases and Payout Policy
PART 6 BUSINESS FORMATION, VALUATION, AND FINANCIAL PLANNING
18. Business Formation, Growth, and Valuation
19. Financial Planning and Managing Growth
PART 7 OPTIONS IN CORPORATE FINANCE AND INTERNATIONAL DECISIONS
20. Options and Corporate Finance
21. International Financial Management
NEW!Chapter 0 Math and Skills Review offers students adaptive review and practice for essential math topics necessary to master Corporate Finance. Built to serve as a refresher of remedial content, this chapter includes reading content, algorithmic practice, and Figuring Finance Interactive Tutorials built to improve student retention and help connect difficult math and finance concepts.
NEW!Expanded Video Library now includes Problem Solutions Lightboard Videos thatallow students to follow along as the authors solve problems on a transparent surface while facing the camera. The Video Library also includes additional Solution Walkthough, Concepts in Action, and Excel Function videos as well as Narrated PowerPoints.
NEW!Learning by Doing Interactive Tutorials contain quantitative problems with step-by-step solutions to help students better understand how to apply their intuition and analytical skills to solve problems.
NEW!Excel Resources include Excel Function Videos, Excel Walkthrough Videos and improved Excel Templates, each developed to provide step-by-step examples of how to use Excel functions applicable to key finance concepts and select end-of-chapter questions and problems.
Weekly Finance Updates provide weekly news relevant to your finance course.
Inside Track: A career coaching resource that offers personalized support and a variety of tools for career development.