Fundamentals of Earthquake-Resistant Construction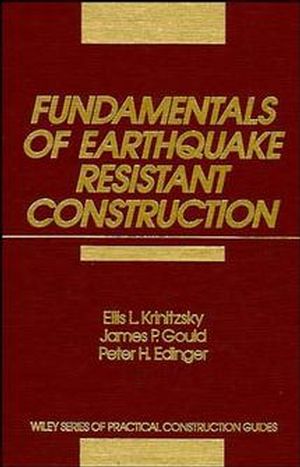 Fundamentals of Earthquake-Resistant Construction
ISBN: 978-0-471-83981-1
Jan 1993
328 pages
Description
Written for engineers without a background in seismic design. Provides design standards and parameters, explaining how to interpret and apply them. Examines and recommends procedures to accommodate the enormous forces and variations in effects common to major earthquakes. Covers practical aspects of soil behavior and structural and foundation design. Gives tips on special construction situations: foundations, dams and retaining walls, strengthening existing structures and construction over active faults.
CAUSES AND CHARACTERISTICS OF EARTHQUAKES.

Basics.

Concepts and Definitions.

Seismological Evaluation.

Geological Evaluation.

Forms of Ground Motions.

Selecting Design Motions.

SELECTION OF THE DESIGN MOTIONS FOR EARTHQUAKES.

Maps of Seismic Zones and Seismic Ground Motions.

Procedures for Selecting Earthquake Ground Motions.

Role of Codes and Empirical Procedures.

DESIGNS FOR EARTHQUAKES.

Acquisition and Evaluation of Geotechnical Data.

Landslides and Slope Stability.

Liquefaction.

Foundation Design.

Structural Design.

Retaining Structures.

Dams.

Construction Over Active Faults.

Strengthening Existing Structures.

Appendices.

Index.